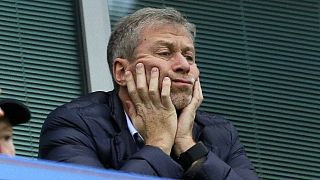 -
Copyright

Matt Dunham/AP
As Russian tanks rolled into neighbouring Ukraine pressure grew on high-profile figures across the cultural sector to renounce Putin's invasion.
However, since then the disgust at Russia's actions has spread and, as western leaders scramble to respond with economic sanctions, big names in food and fashion retail have become the latest to join the cultural front of the war in Ukraine.
Meanwhile Chelsea football club could see its fortunes altered as long-time owner Roman Abramovich has has his assets frozen by the UK government.
Art, music and sport have all long been areas where president Vladimir Putin has sought to project soft power. Now business bosses, whose chains have spread into Russia since the fall of the Soviet Union, are joining the artists and musicians boycotting Russia.
Will a shortage of fast-fashion and coffee to go add more pressure to the ballet-bans and cancelled gigs make a difference? Let's take a look at who's cancelling culture.
Fashion, food and retail
Fast food, fast fashion, and luxury items alike may soon by scarce in Russia as a plethora of retail giants have said they would limit or suspend their operations in the country.
After extreme pressure from consumers Coca-Cola, Starbucks and McDonald's all announced they were pulling out of the country this week. Even Japanese giant Uniqlo have announced their withdrawal from Russia in an astonishing u-turn after previously claiming their clothes were a "necessity".
Meanwhile beauty brands including L'Oreal, Estee Lauder, and Dove (owned by Unilever) hsve put an end to their sales due to the war in Ukraine.
In a statement L'Oreal said, "We strongly condemn the Russian invasion and the war in Ukraine, which is causing so much suffering to the Ukrainian people."
All of the French owned company's stores, concession counters and e-commerce operations in Russia will be suspended.
Elsewhere upscale denim brand Levi's and Austrian jewellery designer Swarovski have both closed their stores, and in a further blow to Russian fashion lovers Condé Nast have ended sales of all their product, including Russian Vogue which has run for 20 years.
Citing concerns over new censorship laws in the country, Condé Nast said in a statement, "We continue to be shocked and horrified by the senseless violence and tragic humanitarian crisis in Ukraine.
"It is paramount that we are able to produce our content without risking the safety and security of our staff."
A full list of retailers and products pulling out of Russia includes:
Uniqlo - The fast fashion outlet u-turned on 10 March after previously saying it would remain open in Russia as clothes were a "necessity of life"
McDonald's - The fast food chain has said it will continue to pay its staff after closing their 850 restaurants across Russia
Starbucks - The original coffee chain ended its operations following a concerted social media pressure campaign
Coca-Cola - The beverage brand also announced it would continue to pay staff after pulling out of Russia
Condé Nast - Glossy magazines may soon be hard to come by after publisher Condé Nast announced they were pulling out of Russia over censorship laws
Swarovski - The Austrian Jeweller closed 12 stores and suspended e-commerce citing the current conflict in the region
Levi's - American jean manufacturer made 4 per cent of its profits in Russia and eastern Europe in 2021 but said business is secondary to "human suffering"
Zara - Inditex, owners of Zara, announced the closure of the Spanish fast-fashion chain due to the war in Ukraine
L'Oreal - The world's biggest cosmetics company strongly condemned Russia's actions in the region as it withdrew from the country
Estée Lauder - The owners of brands like DKNY and Clinique have also ended Russian operations for the time being
Unilever - International conglomerate Unilever said they will suspend sales of marmite, PG tips and Dove products (among others) but will continue to sell Russian manufactured essentials
Mothercare - The brand stands to lose 20 - 25 per cent of its market by pulling out of Russia
Heineken - Dutch beer maker Heineken has suspended both sales and production in Russia
Pepsi - Much more popular in Russia than their rivals Coca-Cola, Pepsi stand to lose a lot by pulling out of the nation
Ikea - The furniture store have shut all stores and ended imports and exports to Russia
H&M - The fast fashion chainhave ended sales both online and on the Russian high street from all their brands including &Other Stories, Cos, and Monki

Asos - The online retailer cited the war in Ukraine as the reason for ending their online services

Boohoo - The fast-fashion digital outlet have stopped online orders in Russia but did not say this was linked to the invasion of Ukraine

Nike - The sports brand has suspended online sales to the Russian territory but have made no statements concerning the war

Burberry - Luxury brand Burberry announced they will stop shipments to Russia, the company also stated they will donate to the Red Cross Ukraine appeal and match any donations made by employees
Pop Culture: Film, TV and music
The music, film and TV industries have all joined in the exodus over Putin's actions and moved to cancel tour dates or stop their products from appearing on Russian screens, amid messages of support from celebrities.
Big hitter Universal Music Group (UMG) who recently acquired Neil Diamond's back catalogue and recently acquired k-pop group BTS, have suspended all operations in Russia over the Ukraine invasion. Meanwhile Live Nation have said they will no longer promote live tours in the country.
Streaming giants Spotify and Netflix have both suspended their operations in the country to different degrees, while Hollywood studios Sony, Warner Bros, and Disney have all cancelled releases for the foreseeable future.
Elsewhere, a sea of musicians from Eric Clapton to Icelandic songstress Björk have pulled out of tour dates in Russia. The exodus of talent comes as Russia was banned from entering Eurovision 2022 after initial pressure from Finland, who have been under threat from Putin due to their consideration of NATO membership.
A full list of pop culture outfits and artists who've acted on Russia's invasion of Ukraine includes:
Universal Music Group - One of the world's biggest names in music, UMG suspended operations temporarily in response to the Russian invasion
Live Nation - The tour promoters have announced they will stop promoting tours in Russia
Warner Bros - The studio has pulled newly release 'The Batman' from Russian cinemas
Sony - 'Morbius', the latest in Sony's Marvel instalments, won't reach Russian viewers for the foreseeable future
Björk - The Icelandic musician pulled out of a Moscow gig citing "current events"
Eurovision - The European Broadcasting Union have banned Russia from entering the annual song competition
Disney - Disney's Pixar has cancelled the release of their latest movie, 'Turning Red'
BBC - The British broadcaster has told Russian-state TV to cease airing their version of the show 'Strictly Come Dancing,' and told another Russian TV channel to drop 'The Green Planet,' presented by Sir David Attenborough
Cannes Film Festival - The world's biggest film festival has refused to allow Russian delegates and says no one with ties to Putin is welcome
Nick Cave and the Bad Seeds - The group have cancelled their scheduled appearance at Moscow's Bol Festival later this year, praising the "bravery" of the Ukrainian people
Eric Clapton - The singer cancelled a gig in St Petersburg this summer over the illegal invasion of Ukraine
Louis Tomlinson - The former One Direction member has cancelled planned tour dates in Russia over the crisis
Franz Ferdinand - The UK band cancelled summer gigs in Moscow and St Petersburg over the war despite citing a "deep link" with their Russian fans
Royal Blood - The UK pop-duo have pulled out of appearances in Russia
Yungblud - The UK singer said he was 'heartbroken' at having to cancel tour dates in Russia
Iggy Pop - The rock legend cancelled his appearance at Park Live festival, Moscow
Green Day - The 90s sensations have called off their dates in Russia in support of Ukraine
The Killers - The Indie group have also pulled out of Park Live which was due to take place this July
High Culture: Classical Music, Opera and Ballet
From Pyotr Tchaikovsky to Wassily Kandinsky, Russia has long been an established producer of high art and culture. However, artists and other cultural figures on the world's opera and ballet circuits have come under as much pressure as oligarchs in the aftermath of Russia's war.
Conductor and Putin-ally Valery Gergiev has attracted particular ire for his closeness to the president which has stretched to supporting the annexation of Crimea and performing for the Russian army in bombarded Syrian cities.
Thanks to his silence the Russian Maestro was first dropped from tour dates with the Vienna Philharmonic Orchestra, and later lost his position with the Munich Philharmonic as well.
Meanwhile, opera star Anna Netrebko had to withdraw from appearances in New York's Met Opera (where she was due to sing in Puccini's 'Turandot') over her refusal to repudiate Putin. Described as "One of the greatest singers in Met history" the celebrated soprano has since suspended all performances until further notice, cancelling scheduled dates in Zurich, Milan, and Hamburg.
The list of high-culture cancellations to date includes:
Valery Gregeiv - The conductor has been dropped from tour dates with the Vienna Philharmonic Orchestra, his role as conductor of the Munich Philharmonic, his honorary presidency of the Edinburgh Festival, his musical directorship of the Verbier and Luverne festivals, and was let go by his management company
Anna Netrebko - The opera singer has suspended all appearances until further notice
The Russian State Ballet of Siberia - The dance troop has had dates cancelled in British cities including Bristol, Wolverhampton, Peterborough, Northampton, Edinburgh and London
Royal Moscow Ballet - A performance of Swan Lake by the group in Dublin was cancelled
Tchaikovsky in Croatia - The Zagreb Philharmonic Orchestra removed two compositions from the iconic Russian composer from its repertoire and the Croatian National Theatre postponed a concert entitled 'Russian Serenade'
Denis Matsuev - The piano soloist was also dropped from Carnegie Hall, New York over his support for the annexation of Crimea
The Metropolitan Opera House - The New York institution has promised to sever all ties with Russian artists and those connected to Vladimir Putin
The Amsterdam Hermitage Museum - The museum in the Netherlands has severed ties with its sister institution in St Petersburg
Bolshoi Theatre - The Bolshoi Theatre, Moscow has lost two principal dancers as well as a conductor over the invasion of Ukraine
Sport
Putin has long lauded Russia's sporting and athletic prowess as something the country can be proud of and many believe that he will be badly damaged at home due to the losses sustained by the nation in this area.
Following bans for Russia from both UEFA championships and the World Cup, Chelsea FC is the latest football casualty after owner Roman Abramovich was sanctioned by the British government. Thanks to the sanctions Chelsea can no longer sell tickets, merchandise or trade players on the transfer market, although special measures will allow existing ticket holders to attend.
Meanwhile, Formula 1, whose Grand Prix is closely associated with president Putin, have torn up their Russian contract and cancelled the September race in Sochi and scheduled 2023 contest in St Petersburg. All races for the foreseeable future are also suspended.
In perhaps the biggest blow, the Paralympics committee have said no Russian or Belarussian athletes will be able to compete in the Beijing Winter Paralympics. The move came after protests from athletes around the world that the two nation's competitors would be able to attend under neutral colours.
A full list of Sports-related sanctions includes:
Chelsea FC - After owner Roman Abramovich was sanctioned the club faces a number of measures including ending sales of tickets and merchandise
FIFA - The organisation has excluded Russia from the 2022 World Cup
UEFA - Russia is also suspended from all European competitions overseen by UEFA
Formula 1 - All Formula 1 Grands Prix in Russia are suspended until further notice
The International Tennis Federation - All Russians are banned from team competitions although individuals may still compete
Winter Paralympics - Russian and Belarussian athletes have been banned from the Beijing Winter Paralympics
World Athletics Series - All Russian athletes are banned from upcoming competitions including the World Athletics Championships to be held in Oregon this year
The International Chess Federation - The organisation has cancelled the 44th Chess Olympiad in Moscow and forbade Russian and Belarusian players from flying their countries' flags at events