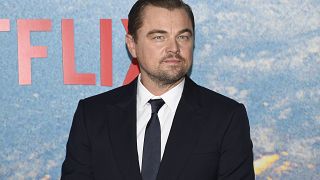 Copyright

Evan Agostini/2021 Invision
-
Leonardo DiCaprio is the latest Hollywood star to support the country in its hour of need. But initial reports that he did so because of a family connection have turned out to be incorrect.
Reports that 'The Revenant' star donated $10 million in aid to the embattled nation because of a Ukrainian grandmother are not true according to an unnamed source close to the actor.
But the donation element to the story is indeed true.
DiCaprio donated to the humanitarian groups CARE, International Rescue Committee, the United Nation's High Commissioner for Refugees and Save the Children in support of Ukraine, the person close to DiCaprio said. No dollar amounts were provided.
Ukrainian forces are currently battling an invasion by Russia, with a refugee crisis unfolding on its borders with other European countries.
The Oscar-winner follows hot on the heels of red carpet couple Ashton Kutcher and Mila Kunis who have pledged $3 million in aid to victims of the war.
The pair pledged the money upon the announcement of their GoFundMe which aims to raise $30 million.
Kunis, who was born in Ukraine before moving to the US in 1991, said on the announcement, "I have always considered myself an American. A proud American. I love everything that this country has done for myself and my family.
"But today, I have never been more proud to be a Ukrainian."
Which other stars have supported Ukraine?
Kunis and Kutcher join a chorus of Hollywood and music stars with Ukrainian heritage who have been speaking out about events in the country this week in the wake of the Russian invasion and continued fighting.
Oscar nominee Vera Farmiga, born to Ukrainian parents, is among the celebrities who took to social media to condemn Russia's attack.
The 'Up in the Air' actor posted an image of the Ukrainian flag on her Instagram account, quoting from the Ukrainian National Anthem with the hashtag "I stand with Ukraine."
Another actor with Ukrainian parents, Katheryn Winnick, best known for her starring role TV show 'Vikings.' wrote on her Instagram, "I woke up this morning to texts from my Ukrainian family and friends saying 'it has begun'".
"Some fleeing, some taking shelter underground and others staying to fight." She also posted a photo of her parents.
"I am a proud Ukrainian" she added, "We are a Peaceful Country. We Do Not Deserve This War."
Ukrainian-born actor and model Olga Kurylenko posted the message "Praying for Ukraine and the safety of its people" along with the hashtag plea #pleasestopthewar
Grammy-nominated recording artist Regina Spektor wrote a lengthy, emotional post on Instagram, reflecting on her Russian and Ukrainian heritage, adding "Today my heart hurts."
"There were, and still are, real Nazis in the world. But in Ukraine that are just millions of civilians being pulled into a war, and in Russia there are children being sent to fight and die for no reason other than the bottomless and horror-filled 'more more more more more more more' of politicians and corporations."
"And it's terrifying… this part of being a grownup sucks. Being this aware of how endless these circles seem to be," she said.
CORRECTION: This article initially followed reports that stated DiCaprio's donation was due to a family connection. This has since been disclaimed by a source close to the actor. The reports also detailed that the donation was to the value of 10m US dollars. But as stated above in the corrected article, details of the amount have not been officially released. We apologise for the inaccuracy.