"Britain's not a quitter" says Cameron in Brexit debate
Comments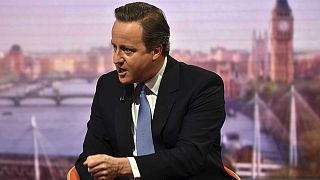 Britain's Prime Minister David Cameron made an impassioned call for voters to choose to stay in the EU when campaigning resumed on Sunday.
"Britain is not a quitter"

British Prime Minister
In a televised question and answer programme he said Britain isn't a quitter, Britain is a fighter.
"If we choose to leave, we can leave but let's be clear if we do leave we are walking out the door, we are quitting, we are giving up on this organisation which even if we leave will have a huge effect on our lives, our children, on our opportunities, on our businesses. I don't think Britain at the end is a quitter. I think we stay and fight. That is what we should do. That is what made our country great and that's how it will be great in the future.'
Following a three day suspension prompted by the killing of a pro-EU MP, representatives of both sides of the argument are once again fighting to get their message across.
"completely untrue"
Cameron also urged people not to vote in the EU referendum on the basis of what he said were "completely untrue" claims from the Leave campaign.
He dismissed warnings over an EU army, the prospects of Turkey joining and the cost of the UK's membership.
BRITAINDOESN'T QUIT – the clear message from David Cameron in tonight's debate. #StrongerInhttps://t.co/yjI7DceYDZ

— Stronger In (@StrongerIn) June 19, 2016
"Believe in ourselves"
Heading the "Leave" camp, former London mayor Boris Johnson made his own rallying call urging people to
"take back control of this great country's destiny" and to "believe in ourselves and in what Britain can do".
With four days to go it seems there will be no let up in the heated nature of the debate which has so far seen "In" campaigners accused of scaremongering on the economy and the "Out" campaign's immigration focus criticised as divisive.
Opinion polls suggest Thursday's vote will be close although it appears there has been a slight swing back to the status quo.
The only poll fully carried out since the death of the lawmaker has showed the "Remain" camp regaining some momentum with a three percent lead.