Kremlin questions integrity of Yulia Skripal TV appearance
Comments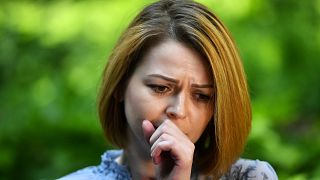 Moscow said on Thursday it was deeply skeptical about Yulia Skripal's first media appearance since she and her father Sergei were poisoned by a nerve agent in England. Russia denies any involvement.
Talking on Camera Ms Skripal said she felt lucky to be alive, that her life had been turned upside down, but that she still hoped to return to Russia one day.
But the Kremlin said it was unclear if she had been talking of her own free will.
"We have no grounds to trust this and to believe in it," said spokesman Dmitry Peskov. "We still do not know in what state Yulia Skripal is in, we do not know whether she made these statements by her own free will or under pressure....overall, considering we are talking about a fairly unprecedented international provocation against Russia. We maintain our distrust and have every reason to do so."
Yulia and her father Sergei Skripal, a former Russian double agent, were exposed to the nerve again Novichok in March in the town of Salisbury in England. She spent six weeks in hospital. Her father was discharged earlier this month.