Russia brushes off accusations of Skripal poisoning
Comments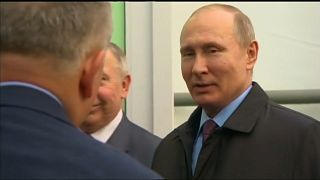 Russian authorities have brushed off any responsibility for the poisoning Skripal case.
It comes after Britains Prime Minister says it's highly likely that Moscow is responsible for the incident.
The Russian president says he'll discuss the Salisbury spy case once UK authories have dealt with it.
He says, "Listen, we are dealing with agriculture here. And as you can see our aim is to create living conditions for people. And you are talking about some tragedies. Get to the bottom of things there first, then we'll discuss this."
He was responding to a question from a Moscow correspondent on whether Russia was to blame for the poisoning of Sergei and Yulia Skripal.
Russian Parliament member, Andrei Lugovoy is accused by UK as being one of the killers of former KGB agent Alexander Litvinenko.
He agrees with Russian State Media which describes the case as an attempt to smear Russia. "I think that this story is a part of a big plan to discredit Russia developed by someone somewhere. There was Rodchenkov, then there were Olympics, and now we have Skripal and after that we have the World Cup. Because all the previous stories that they were trying to accuse us of, like Crimea and Ukraine are loosing their significance."
As well as Lugovoy, Dimitri Kovtun, a Russian businessman and former KGB agent is another who's been accused of the death of Litvinenko.....after meeting up with Alexander hours before he fell ill.