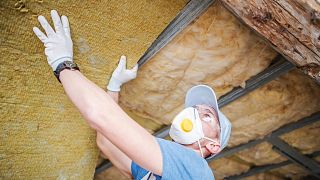 Reaching net zero emissions could prolong people's lives significantly, new research reveals.
More than two million years of life could be added in England and Wales between 2021 and 2050 if net zero emissions policies are adopted successfully.
Researchers analysed the health impact of measures laid out in the UK's Balanced Pathway plan, which aims to cut greenhouse gas emissions by more than 60 per cent by 2035 and reach net zero by 2050.
Among electricity supply, transport, housing and food policies, improving home insulation was found to be the most beneficial emissions-curbing measure to longevity.
How does home insulation improve life expectancy?
In England and Wales, there are over 60,500 excess deaths associated with cold each year, according to a separate study published in the journal The Lancet Planetary Health.
Exposure to indoor air pollution also negatively impacts health. It can cause and worsen chronic conditions like cardiovascular and respiratory diseases as well as lung cancer, leading to reduced life expectancy.
The average person spends around 80 per cent of their time indoors, according to the UK government. While some sources of pollution are internal, particles from outdoors can enter the home. Radon - a colourless and odourless radioactive gas - can also seep from rocks and soils into homes, increasing lung cancer risks.
Not only does home insulation make homes more energy efficient, thereby reducing consumption and emissions, it also ensures they are warmer in winter and can reduce exposure to indoor pollution - provided there is adequate ventilation.
If all UK homes are retrofitted with loft, floor and wall insulation by 2050, citizens could gain 836,000 life years, the research suggests.
Which climate policies are best for health?
Under the UK's plans to reach net zero, actions range from improving home insulation and using renewable energy to moving towards plant-based diets and increasing levels of active travel.
Such actions could prolong life spans because they reduce harmful pollution and promote healthier behaviours.
The research, published in The Lancet Planetary Health, examined the health impacts of four key targets for UK emissions reduction.
These covered electricity supply, including goals of increasing renewables by 450 per cent by 2050, phasing out gas by 2035, and increasing carbon capture and storage.
Transport, including phasing out combustion engine cars by 2050 and encouraging active travel (walking and cycling), was also examined, alongside food and diet, including reducing meat and dairy consumption by 35 per cent by 2050.
Housing policies, including phasing out fossil fuels and improving energy efficiency with insulation, were found to have the most positive impact on health.
Switching to renewable energy in homes was found to be the second most effective policy, after insulation, resulting in nearly 660,000 years of added life, based on consistent figures since 2020.
Next came reduced red meat consumption and increased plant-based replacements, which could add more than 410,000 years, followed by increased active travel (125,000 years).
Both the UK and the EU aim to become climate neutral by 2050. This demands a combination of cutting greenhouse gas emissions, offsetting them and removing them from the atmosphere.
Could net zero policies also negatively impact health?
Although net zero emissions actions are predominantly beneficial for health, there is the potential for negative health effects in some cases.
Reduced ventilation in insulated homes could lead to pollution build-up inside properties. The researchers therefore emphasised the importance of good ventilation.
Increased uptake of cycling without proper segregation from car traffic could increase risks of road injury.
Switching to plant-based diets could also have a mixed impact on health.