Italy's Conte promises to reduce deficit target to avoid EU sanctions
Comments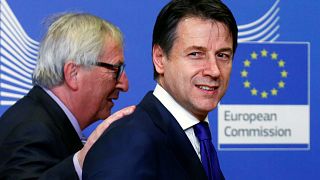 Italy's Prime Minister Giuseppe Conte has met with European Commission President Jean Claude Juncker for the latest round of budget talks.
Initially rumoured to be have been called off – the results of the meeting gave new optimism to a topic that had put Italy at loggerheads with Brussels ever since they first submitted their proposed budget for approval earlier this year.
Hoping to fend off EU disciplinary measures - Prime Minister Conte proposed reducing Italy's deficit target from 2.4 to 2.04 per cent. Conte told reporters outside the meeting that "technical analyses" meant that its government could recover resources and reduce the deficit for 2019. However, questions still remain over whether this reduction in the target will be enough to fend of EU sanctions.
What is still in question is how the deficit will be cut while maintaining planned pension increases and welfare handouts.