Bulgarian businessman shot dead in Sofia street
Comments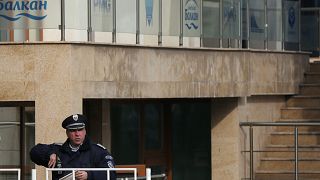 A prominent Bulgarian businessman has been shot dead in broad daylight in the capital, Sofia.
Petar Hristov, 49, is described as the owner of one of the country's biggest dairy companies. He is said to have had interests in construction, tourism and real estate as well as the food industry.
The businessman is also reported to have been close to senior officials from the ruling centre-right GERB party.
He was reportedly gunned down in Manastirski Livadui, an affluent district of the city, just after 10 am. Some reports say the shooting happened outside his company's office, but some local news reports say he was shot in the chest in front of his home.
Unconfirmed reports say the shooter was alone and fired one shot. The victim is said to have been taken to hospital by his driver but died after half an hour in resuscitation.
Bulgaria's national police chief, Hristo Terziyski, has been quoted as saying that the killing is likely to be linked to his business interests. However, at least one report says police have not excluded a possible personal motive.
According to Bulgarian media, Petar Hristov had helped dismantle a gang behind a series of kidnappings, during the first mandate of the current Prime Minister Boiko Borissov from 2009-2013.
The killing comes in the week that the prime minister is due to inaugurate formally Bulgaria's first tenure of the six-month EU presidency.
The European Commission estimated recently that organised crime in the country had become "less visible" and had become less of a threat for stability than in the past. However, it also said that the struggle against corruption was an area which had seen the least progress.