Bulgaria's president vetoes anti-corruption legislation a day after assuming EU presidency
Comments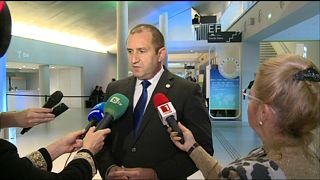 Bulgaria's president vetoed an anti-corruption bill a day after assuming the EU presidency on Monday.
Rumen Radev's argument is that the bill would not be effective enough and could be used to persecute political opponents.
Bulgaria has frequently come under fire from Brussels for not doing enough to tackle political graft.
Anti-corruption agency Transparency International has said Bulgaria is the most corrupt country in the bloc.
The bill would have led to the creation of a special unit tasked with tackling high-level abuse.
The proposed legislation will now have to go back to parliament for further debate, although lawmakers do have the power to overturn the president's veto.
Kornelia Ninova, who leads the opposition Socialist Party, said it created "a golden opportunity" for the government to produce better anti-corruption legislation.