Bulgaria takes up EU presidency
Comments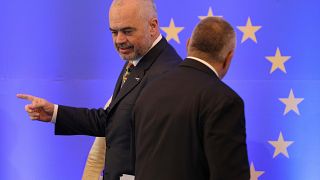 Copyright

REUTERS/Stoyan Nenov
Bulgaria, the EU's poorest member state and seen as its most corrupt, takes up the rotating presidency of the EU Council from January 1.
Among its priorities are the EU candidate countries in the Western Balkans.
"The pre-accession period is very important for these countries," Daniel Smilov from the Center for Liberal Strategies told Euronews.
"In fact, Bulgaria experienced its fastest development and most important reforms during this period. So if we give the Western Balkans a clear perspective, we can expect a good development. On the other hand, the government will be able to divert attention from topics that are not very pleasing to it, such as the fight against corruption."
Bulgaria and the fYRoM signed a friendship treaty in 2017, but difference still exist between the neighbours.
"The problem that arises every time between Bulgaria and Macedonia (fYRoM) always has the same origin: the non-recognition of the Macedonian minority in Bulgaria and the questioning of the Macedonian nation," explained Stoiko Stoikov, OMO-Ilinden-Pirin.
"It has always caused conflict. Unfortunately, since the signing of this agreement, and with Sofia's policy, there has been no real development on this issue."
An EU-Western Balkans summit is scheduled for May 2018.