Idlib explosion claims many lives
Comments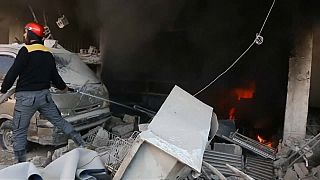 At least 18 people have been killed and tens more injured, including civilians, in an explosion in Syria's northwestern city of Idlib.
Monitor the Syrian Observatory for Human Rights said the explosion targeted the headquarters of a minor rebel faction in Idlib. It was not immediately clear what the nature of the attack was.
Who are the rebels?
The main rebel force is Tahrir al-Sham, spearheaded by the former al-Qaeda affiliate in Syria previously called the Nusra Front.
Idlib's strategic importance
Idlib province is a stronghold of rebels in Syria and is situated on the border with Turkey.
The Syrian army and its allies launched an offensive in October to recapture the provinces of Idlib and Hama. It has since been making swift advances.
Idlib was lost to insurgents when the provincial capital fell in 2015. It became the only province fully under opposition control.