Geneva peace talks: looking for a way out of Syrian war
Comments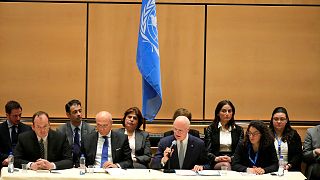 Opposing sides in the Syrian war have come face to face in UN peace talks for the first time in three years, as a way out of the deadly conflict remains elusive.
Describing the negotiations as an uphill task, the UN's special envoy called for a joint effort.
"Let us now keep the interest of Syria and its own people in mind. Work together – I know it's not easy – but let's try to work together, to end this horrible conflict, and lay the foundation for a country at peace with itself, sovereign and unified," said Staffan de Mistura.
De Mistura is due to hold meetings on Friday with the delegations. He says it would be his "dream" to bring them back together for direct talks, but there is still work to be done.
"As opposition, we're looking forward and waiting for a positive role for the US in the region. So we could get rid of ISIL and also, get rid of Iran and the other Shiite militias, so we can achieve the political transition in Syria," said Nasr El Hariri, Head of the Higher Negotiations Committee (HNC).
Reporting from Geneva, Euronews' Faiza Garah said: "At the end of the first day of negotiations, the HNC eventually accepted De Mistura's request to involve the two Moscow and Cairo platforms in the opening session.
"Many analysts here saw this as the beginning of a Russian will to impose its strategy on these negotiations, in the absence of an effective US role at the moment in the Syrian crisis."
FM sigmargabriel</a> on peace talks for <a href="https://twitter.com/hashtag/Syria?src=hash">#Syria</a> in <a href="https://twitter.com/hashtag/Geneva?src=hash">#Geneva</a>: I call on all sides to participate sincerely and constructively in the negotiations. <a href="https://t.co/pf20cHjtjy">pic.twitter.com/pf20cHjtjy</a></p>&mdash; GermanForeignOffice (GermanyDiplo) 23 February 2017