Syrian peace talks: hopes of a breakthrough low as UN-backed negotiations resume in Geneva
Comments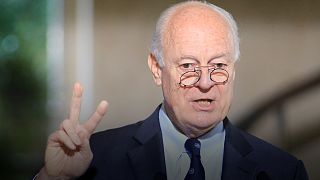 Peace talks aimed at finding a political solution to the war in Syria have resumed in Geneva.
The UN's special envoy Staffan de Mistura is holding meetings with both the Syrian government and representatives of opposition factions.
The two sides are not expected to meet face-to-face initially and hopes of finding any immediate breakthroughs to end the six-year conflict remain low.
Omar kouch, a Syrian writer close to the opposition told euronews: ''I think it will be difficult to obtain an agreement during this round of negotiations as the United States is the big player which is absent. It has prefered to play an observer role, rather than an effective role and as a result this weakens these talks.''
The UN talks are the first in almost a year. Since then, the military situation in Syria has changed massively.
Despite that, the opposition still wants President Bashar al-Assad's fate to be on the agenda, something the government has refused to discuss.
From Geneva Euronews' Faiza Garah said: ''The eyes of the Syrian people are once again turned upon the headquarters of the United Nations here in Geneva where the two delegations are meeting to try to find a deal which paves the way towards a lasting solution to the crisis in Syria.''