Syria: Turkey-backed rebels in 'near full control' of northern town of al Bab
Comments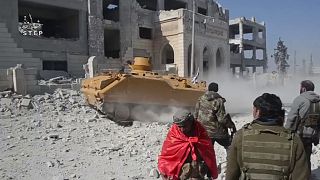 Turkish-backed rebels fighting ISIL have taken near full control of al-Bab in northern Syria, Turkey's defence minister has said.
Heavy fighting has been taking place in the battleground town, which has been under siege since November.
Some reports, however, suggest parts of al-Bab still remain under the Islamic State militants control.
Announcing to Turkish media that Free Syrian Army fighters were in the centre al-Bab, Turkey's defence minister Fikri Isik said:''When the search and combing operations are over, we will be able to say that al-Bab has been completely cleared of its Daesh elements.This does not need too much more time"
Since Ankara launched its Syrian offensive last August ISIL has been pushed back from the Turkish border.
The potential fall of al-Bab would represent another blow for the extremist group.
Turkey's military operation is also seeking to limit gains by Kurdish forces to the east.