Dr. Alison Thompson on life as a full time humanitarian volunteer
Comments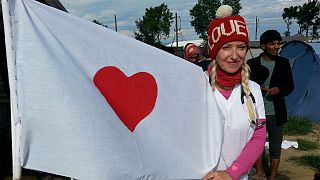 An interview with Dr. Alison Thompson, a full-time humanitarian working inside the refugee camps in Greece.
When the planes flew into the twin towers in New York City on September 11 2001, rather than lock her doors and stay inside, Dr. Alison Thompson packed a backpack with medical supplies, put on her rollerblades and skated into ground zero as a first responder. It was at this tragedy that Dr. Thompson realized her true calling – to be at the wrong place at the right time and do something. Since 2001, Alison has covered the 2004 tsunami in Sri Lanka, the 2010 earthquake in Haiti (where she worked with the actor Sean Penn), the 2015 Nepal earthquake and now the refugee camps in Greece. Dr. Thompson made an award-winning documentary entitled The Third Wave about her experiences during the 2004 tsunami, later wrote the book The Third Wave: A Volunteer Story and set up Third Wave Volunteers an international volunteer group. In 2010 she was awarded the Order of Australia by the Australian government and Queen Elizabeth ll. Hugh Bohane spoke to Dr. Thompson in Greece about a range of topics regarding the current refugee crisis.
Could you please describe the refugee camps in Greece and what the conditions are like?
Well, this has been the biggest exodus since World War Two and Hitler. People aren't fleeing because of economic reasons; they are fleeing because they are being bombed. Syrians are being bombed on many fronts. So, in the beginning we were getting up to 10,000 refugees arriving every day on Lesvos Island. They would arrive on all parts of the island and during the last winter we were dealing with a lot of hypothermia. Many people would arrive at night and they would have to walk 31 miles up a steep hill and this included elderly people, disabled people and babies. So we would provide them with solar lights because it was pitch black.
I was in Lesvos for seven months and then the EU made the decision to shut all the borders and send the refugees back to Turkey. Meanwhile, there were already two million people in camps backed up there and in really bad conditions, so it wasn't a good situation. Now, there are more than 57,000 refugees split into camps in Greece and the conditions aren't good here either.
The people who are making it out here are doctors, lawyers, engineers, scholars and middle class people, and they are beautiful people. When they get off the boats they are just like us and you see their kids wanting to take selfies just like our kids. These are super smart people and I'm blown away by how educated they are.
In the beginning, the men headed to Germany to find their women and children and have since been cut off or vice versa. Unfortunately, there are really no solutions right now and so there is still no real closure for a lot of these people.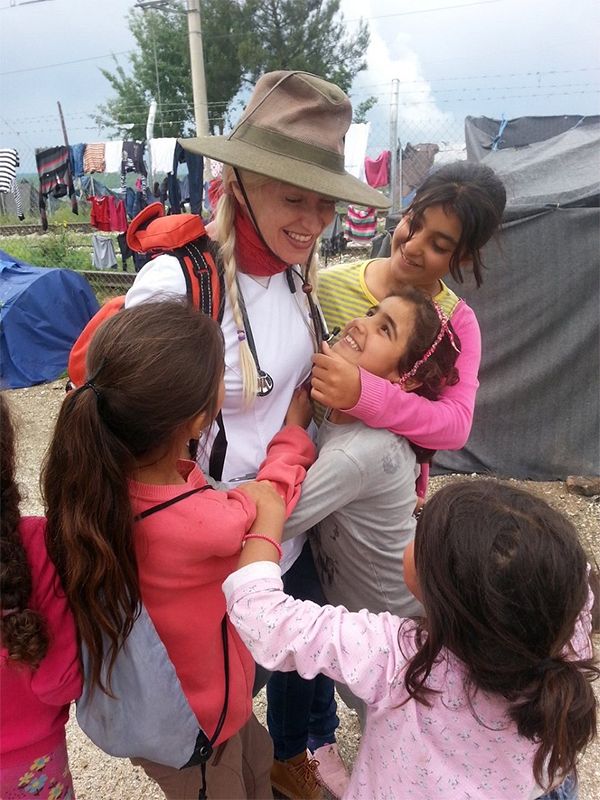 How did the solar puff lights come to exist?
My friend Alice Chun designed them in New York and they are made in China and in other parts of the world such as Singapore, and the company is called Solight Design. After the 2010 earthquake in Haiti, Alice brought over a prototype to me while I was working there.
What are some of the myths that are being portrayed by some of the media about the refugees who you are helping?
That it is "only boatloads of men arriving" would have to be one. Okay, well these families are saving up all their money and they can't all afford the mission because it costs up to $50,000 to get to Europe and those boat trips can cost about $2,000 a head. And, "if they are sending men or 14, 15 and 16-year-old boys it's because they are the first to be recruited by ISIS" and they are constantly getting death threats. But the cameras aren't always showing all the women and children that are arriving as well and they only show the men. For example, in the Idomeni camp, 40 percent of those people were children, but the media was just showing these large groups of men, and that "they are potential terrorists and angry men". There are so many myths. But these are just people like us and have nothing to do with politics. There is the barber and the robot maker coming over, and they are being treated like criminals; they are all fleeing the same thing. I've spoken to women who have been raped 20 times a day, sold and resold in the markets and I've heard the stories about executions of men which take place in front of their own children.
What have been the biggest challenges in helping the refugees in an operation like this one?
Not having enough resources. Volunteer groups are running everything and there haven't been enough resources, but we all band together with our fundraising efforts. The biggest thing is the important issue of humans trying to help humans and that is being taken out of the equation a lot of the time. Politicians are forgetting the human face to this.
Translators are needed, because we are dealing with ten different languages and things can get a bit lost in translation. Female doctors, pediatricians and all types of volunteers are needed. The situation is changing a lot, so I usually tell my volunteers to buy their tickets ten days before. A lot of the military camps don't let volunteers in and so I tell people to keep in touch and monitor what is happening on the ground in Greece.
Who have been some of the everyday heroes and NGOs you have worked with during your time there?
There are so many wonderful smaller NGOs. Lighthouse Relief, a Swedish NGO, was doing great work while I was on the island of Lesvos. Another fantastic one is The Dirty Girls Of Lesvos Island who provide recycled clean clothes to the refugees who arrive. Many of the Syrians land in really nice clothes, and they are drenched and freezing and so The Dirty Girls of Lesvos Island collect their clothes and take them to the laundry and bring them back to redistribute them. Proactiva Open Arms is a group of Spanish lifeguards who have been helping with rescues and Hot Food Idomeni provides hot food and tea to the refugees in some of the camps. There are so many. Operation Blessing International has been giving lots of donations for our solar lights. They have been a really great help. MSF has a presence in the camps, but it is a bit overwhelmed running the medical work and I've been doing a few medical rounds as well.
What can ordinary people do to help?
Our solar puff lights has a crowdrise fundraising site, so people can donate to that, but really just coming over and volunteering. You don't have to have a medical background, there is always work sorting clothes in the warehouses or other things you can do. We have singers, clowns and teachers who come over and those kinds of people are needed as well. Everyone can come and volunteer even for just a week and fill the gaps.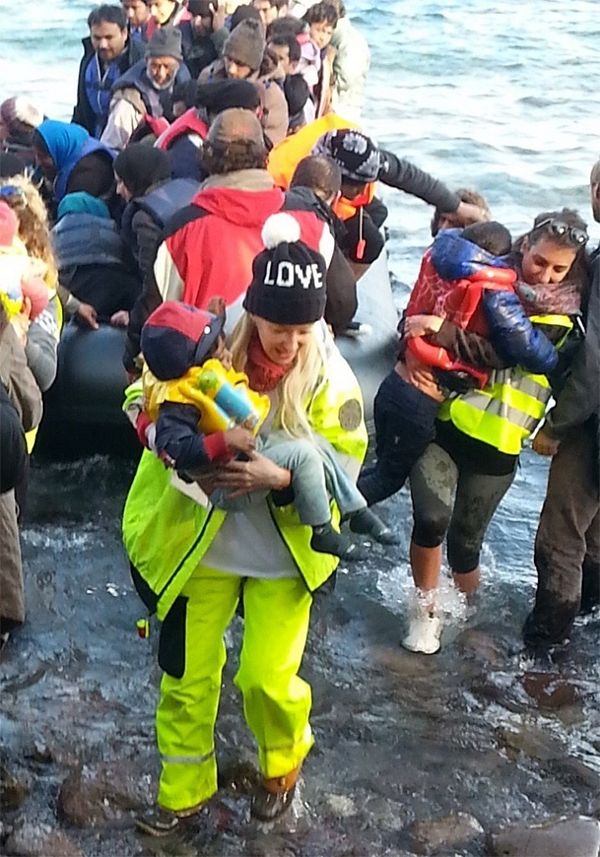 Who are some of the world's leaders or other public figures that have been showing solidarity with the refugees lately?
A lot of the Syrians are saying to us "why are all the Christian groups helping and there are none of the Arab groups here?" And, they are finding it strange that Christian groups are helping them. The Pope has been fantastic. He came through and shook everyone's hands in Moria camp and some people dropped to their knees and he said "please don't do that, I'm an equal." He took three families home as a symbol to the world to do the same.
The Scandinavian and Spanish people have been really supportive, even if their politicians haven't. Germany was good for quite a while letting people in, but has since changed its policy. The actress Susan Sarandon came over and joined me in giving out lights and has done really great work here. The Greek people have been amazing. There are so many people who are for the refugees and it's mainly the politicians who aren't.
I have recently been involved in high-level talks with some US officials in Washington to try to give the refugees a voice…and to be a humanitarian at the table. I'm telling them what is really going on and what's not being told through the media.
What are some practical solutions to the refugee crisis looking ahead?
I think the people who have already made it through to Greece and with all the money these people have spent, and all the hell and hardships they have been through, should just be allowed to stay in Europe if they need to. The truth is a lot of these people don't actually want to stay in foreign countries and would like to return to their own countries. They are proud people.
What have been some of the happier stories coming out of the situation you have been working in?
A while back we had a solar puff wedding at night. Two Syrians had been engaged for about six months before they left Syria and they were waiting to get married and couldn't wait any longer, so they decided to have a wedding! We brought cake and sweets, and the bride wore a wedding dress, and we held it in two tents.
There are lots of positive stories. There is a fellow that came as a refugee and stayed. He is one of the heroes. He stayed on to help his own people, giving out bananas, sorting out the tents and he doesn't take interviews, and he just keeps his head down while directing people. There are also the everyday volunteers of all walks of life, who are coming together and just treating the refugees as humans.
There is a nice story about some of the refugee kids running around with fake cameras and microphones made out of boxes and interviewing everyone who visits the camps. This is something I've seen around the world in different crises before. And, now these kids have been given actual cameras and are making real TV. So, while there is always hardship and darkness at times, love wins in the end.
Interview contributed by Hugh Bohane, an Australian freelance journalist, English teacher and volunteer. He has worked in both the media and humanitarian sector in Sri Lanka, Australia and, most recently, Greece.
Pictures provided by Chris Morrow