Idomeni: Before and after (photos)
Comments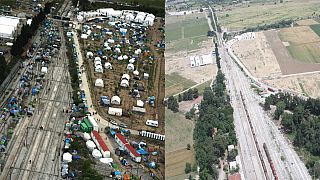 Hellenic Police released today photos of Idomeni area, before and after the evacuation of the refugees camp.
More than than 10,000 refugees and migrants were living in the fields and in tents of the informal settlement in Idomeni, near the borders with the Former Yugoslavian Republic of Macedonia.
For a long time they had stopped the routes of trains because their tents were set up on the rails.
Despite the Police operation about 5,000 people resided in Idomeni, they set up their tents in three new locations on the outskirts of main road Athens – Thessaloniki while several more are camped in the surrounding hills, avoiding the organized hospitality areas.
In organized areas transferred eventually 3,700 people, according to official announcements. NGOs, however, they call upon to support and those who are not settled in official camps.