Analysis: the 'disgrace' of Idomeni refugee camp
Comments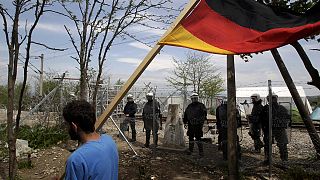 At the end of February and five days after the closure of the border between the Former Yugoslav Republic of Macedonia and Greece tension started to boil over at Idomeni.
Hundreds of migrants frustrated at being prevented from continuing their journey across the Balkans to the north of Europe tried to force the fence. It was the first serious incident in what was to become a huge makeshift camp and home to more than 11,000 people.
It was the height of winter. Their only shelter, small tents which became entrenched in the soggy mud.
They blocked the the railway line which links Macedonia and Greece. Services were disrupted and the patience of the local people was stretched. Living conditions started to deteriorate.
"Idomeni is not an official camp from the humanitarian standards, it doesn't meet all the needs. There are not the basic services, they are not well established, and it's not organised. It's not only one element and that's it. It's also sanitation, it's water, it's food, it's medical, it's privacy," explained Liene Veide UHNCR Public Information Officer.
A rumour grew but no one knew from where and it led to hundreds of people attempting to cross a dangerous river which is in flood. It is reported three people died while trying to make it to the other side. The mass attempt failed.
The migrants are rounded up and forcibly returned to Idomeni by the Macedonian Police. A few days later on March 20 an agreement between the EU and Turkey came into force to deport anyone who arrived in Greece illegally after that date.
In the last week of March a fleet of buses arrived at the sprawling camp. The authorities hoped to transfer 1,000 to nearby refugee camps. Few wanted to move and in the end they were reluctant to board as no one was told to where they would be taken.
Of the fleet of 20 vehicles only four left Idomeni with any passengers. The Greek government was overwhelmed and asked for time.
On April 1 Yannis Mouzalas the Minister for Migration spoke to parliament.
"The disgrace of Idomeni, the disgrace of the port will stop. It will take time. The government needs to organise it. But it will happen. Do you want riot police or don't you? You don't. Do you want teargas amongst children or don't you? You don't. So we need time and organisation," he said to the deputies.
Euronews correspondent in Athens, Stamatis Giannisis reported.
"Despite intense criticism, the Greek government's plan is to let the migrants tire of the appalling conditions at the makeshift border camps and – without the use of force – leave of their own free will in order to seek proper accommodation at the organised refugee settlements that operate in the country."