Turkey vows to push back PYD fighters from Syrian border
Comments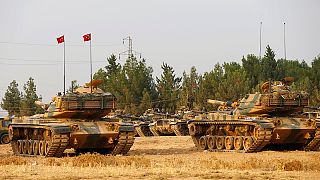 Turkey's Defence Minister says its armed forces are hoping to push the Syrian Kurdish PYD fighters further east in Jarablus within a week.
Fikri Isik's statement came a day after the Free Syrian Army, backed by Ankara and with US-led air support, reportedly took the Syrian border town of Jarablus from ISIL.
Both Turkish forces and the PYD's military branch, the YPG, are fighting ISIL. However Ankara is also aiming to drive back the PYD, which it considers a terrorist organisation. Considered by Ankara to be the Syrian branch of the Turkey-based Kurdistan Workers' Party (PKK), it has been at war with Turkey for over three decades.
The Syrian organisation gained strength in the region around Jarablus earlier in August, 2016, after helping capture Manbij – which lies further south in Syria – from ISIL control.
The US, which has ties with the PYD, has pledged the group will retreat, or it will sever relations.