Syrian city of Palmyra faces new ISIL threat - reports
Comments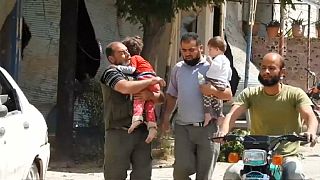 It is reported that ISIL militants are advancing towards the Syrian city of Palmyra for a second time.
It comes several weeks after the government took it back from the self-proclaimed Islamic State group.
The reports emerged on Wednesday in the final hours of a ceasefire in Aleppo, which was extended by 48 hours earlier this week.
There have been a number of short-term local truces in place. But fighting has continued between rebels and government forces.
The US and Russia have said they will work to revive a February "cessation of hostilities" agreement, that has reduced violence in parts of Syria.
It – and the local truces – do not include ISIL or al Qaeda's Syrian branch, the Nusra Front.