French President unveils plaque in Paris
Comments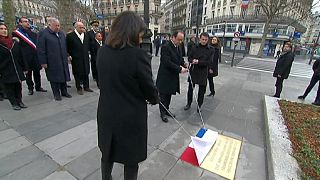 French President Francois Hollande has laid a plaque in Paris in honour of all those killed in extremist attacks in the city in 2015.
Hommage place de la République après les #AttentatsParis Un nouveau rendez-vous à 17h30
https://t.co/VcpuRdzqbLpic.twitter.com/PSJ5e0ZQQI

— France Info (@franceinfo) January 10, 2016
Hollande and Paris Mayor Anne Hidalgo unveiled a plaque in the Place de la Republique.
La place de la république, à la dimension de la pensée de Hollande: vide! pic.twitter.com/AsNWf9aqRb

— arnaud3j (@Arnaud3J) January 10, 2016
Public attendance at the event was low.
Un hommage aux victimes des attentats plus officiel que populaire https://t.co/WvqBRaPHwLpic.twitter.com/QBRZZ4QjI0

— Libération (@libe) January 10, 2016
The site has come to represent Parisians' solidarity since the attacks began on January 7th, 2015.
More than 150 people died when militants targeted Charlie Hebdo magazine, a kosher supermarket, a rock concert, cafes and the Stade de France.
As #France remembers victims of #CharlieHebdo attacks, we stand together in the fight against terrorism #solidaritépic.twitter.com/a4tGQ0wkXY

— Philip Hammond (@PHammondMP) January 10, 2016
Sunday's ceremony brought a week of commemorations to a close.