Victims of Paris kosher market siege remembered
Comments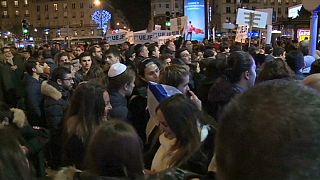 Crowds attended a service outside a Paris kosher supermarket on Saturday (January 9) one year after four hostages and a French Islamist gunman were shot dead.
Prime Minister Manuel Valls was joined outside Hyper Cache by local residents including members of the city's Jewish community.
"We hope that the government will do everything to fight against Islamic extremism and the terrorist threats that burden our country," said Nicolas Woloszko, Union of Jewish Students of France. "As members of civil society, we will lead the fight against the radicalisation that influences young French men and women to commit vile acts like the ones that happened here a year ago."
Earlier on Saturday French President Francois Hollande led another ceremony in the Montrouge area of Paris. He unveiled a commemorative plaque for the police officer shot dead by the same gunman who took hostage several people in the supermarket.
The Muslim man who became a symbol of the good in people in the face of terror https://t.co/1YACiBqZk9#HyperCacherpic.twitter.com/JdFoDA3lNC

—

WJC

(@WorldJewishCong) January 9, 2016
Tués en faisant leurs courses pr shabbat.
Yohan, Yoav, Philippe, François-Michel. A jamais ds nos ❤️. #HyperCacherpic.twitter.com/GpfYZ0hbiF

— AlyLEVY (AlySinvite) (@Aly_Lev) January 9, 2016