Clarissa Jean-Philippe remembered a year after terror attacks in France
Comments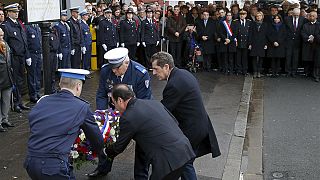 A year and a day after she was shot dead by Islamist gunman Amedy Coulibaly, policewoman Clarissa Jean-Philippe has been honoured at a ceremony near Paris.
[A year ago] 8:10AM - Shots heard in Montrouge near Paris: a gunman kills policewoman Clarissa Jean-Philippe pic.twitter.com/7JGAGf5d3J

— euronews (@euronews) January 8, 2016
French president François Hollande led the commemoration in Montrouge, just south of the capital. A road was renamed after the fallen officer and a plaque unveiled. It reads: "Clarissa Jean-Philippe, victim of terrorism, killed in the line of duty."
François Hollande dévoile une plaque en mémoire de Clarissa Jean-Philippe https://t.co/F8CNAibkLNpic.twitter.com/l3vDWXATHj

— BFMTV (@BFMTV) January 9, 2016
.@fhollande a dévoilé la plaque en mémoire de Clarissa Jean-Philippe à #Montrougehttps://t.co/TL36Ylzjnvpic.twitter.com/hK5G70YFSr

— francetv info (@francetvinfo) January 9, 2016
Her family recently criticised the government for "forgetting" about her, the French media reported.
The French police force published this tweet on January 8, exactly a year after Jean-Philippe died. It reads:
"We won't forget Clarissa Jean-Philippe, our colleague in the municipal police force, who was killed one year ago."
[#HOMMAGE] Nous n'oublions pas Clarissa JEAN-PHILIPPE notre collègue de la police municipale tuée il y a un an. https://t.co/bBoUrgE65E

— Police Nationale (@PNationale) January 8, 2016
Clarissa Jean-Philippe
The 26-year-old from Martinique was killed during a series
of terrorist attacks in and around Paris last January. She had been called out to an unrelated incident when Coulibaly opened fire on her.
He went on to hold a number of people hostage in a siege on a kosher supermarket, before being killed during a rescue operation.
Place de la République
Following the attacks, crowds gathered in the capital's Place de la République to remember the 17 people who died. On Sunday (January 10), Hollande will attend a similar gathering to bring to a close a week of commemorations.