French mosques open doors to public to promote unity and solidarity
Comments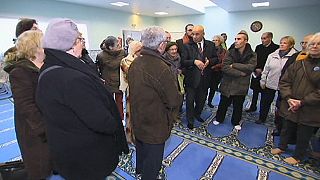 Hundreds of mosques across France have opened their doors to the general public in an effort to demonstrate solidarity with the victims of recent terror attacks in the country.
Organisers of the so-called brotherly tea parties hope to promote unity and discuss misconceptions about Islam.
Omar Shabani, Chairman of the Grand Mosque of Arras, said:
"Often Islam is badly perceived. But in fact Islam is peace, Islam is love."
While Said Baoulahtit, Chairman of the Grand Mosque of Strasbourg added:
"We want to demonstrate that Islam is about the preaching of tolerance, peace and brotherhood."
France's leading Muslim body, the French Council of the Muslim Faith, has backed the open weekend.
It coincides with the first anniversary of the Charlie Hebdo and kosher supermarket attacks and comes less
than two months after the shootings and bombings in Paris.
France has since closed three mosques believed to have been "radicalising" their followers.