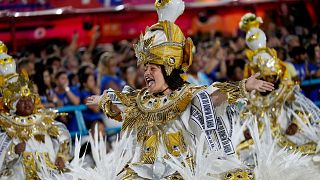 By Euronews Travel with APTN
Rio de Janeiro carnival is billed as the world's biggest party. But the annual event is much more than just spectacle.
Blood, sweat and tears go into the floats that entertain tourists and locals in the stands of the famous Sambadrome. With one end goal in mind: victory.
In Brazil the judges' decision is known as 'the count' - the scores from the parade competition which lead to the year's winner being announced.
But it's been a long and winding road for the count to get to where it is today.
Millions in Rio tune in to find out the winner
The hopes of entire 'favela' communities ride on the outcome. Yesterday they flocked to their respective schools to watch the televised results. A win affirms their hard work was executed to perfection, bestowing honour and prestige.
"It's the pleasure of doing the parade correctly and the satisfaction of taking the title home," Maria da Conceição da Silva, 59, said on Monday night before parading. She swears she'll keep coming back "until God takes me, to parade up there."
How are Rio carnival floats judged?
The esoteric regulations dictate that schools be scored on nine categories. Amongst these are costumes, drumming, song, harmony, plot and evolution. All designed to quantify the months of design, stitching, sculpting, welding and rehearsal that go into production.
36 judges with proven knowledge in each category undergo training, then they're distributed along the 700 metre parade route to watch as each school's 1000+ paraders pass.
The large number of judges is designed to prevent a single bad score from torpedoing a school, according to Fábio Fabato, who writes and researches Carnival and Brazilian popular culture. It also helps curb corruption, he says, because it's harder to buy off judges.
How are Rio samba schools ranked?
The samba schools' 70-minute displays can cost 10 million reais (€1.8 milion). The school that scores lowest is relegated to the lower league. Returning to the elite echelon can take years.
The top six finishers get percentages of box office revenue. But only the champion school goes down in history and no one remembers the runner-up, says Jorge Perlingeiro, the president of the top league.
How are the parade scores announced?
For over three decades, Perlingeiro has been the voice of Carnival, announcing judges' scores one by one. Each bellow of "10!" - the top score - with his heavy Rio accent launched the schools' fanatics into ecstasy yesterday. Some lower scores elicited frustrated groans. More than half of Rio's televisions were tuned in, according to Ibope which monitors ratings.
The ceremony lasted about 90 minutes, with no less than 432 scores read aloud for 12 schools. The winning school, 'Imperatriz Leopoldinense', achieved 269.8 - two-tenths of a point shy of perfect.
The title ends the school's 22-year drought and cements its Carnival director's star power. At the Sambadrome, the school's drum leader crumpled and cried when the win was announced while a packed crowd at the school jumped for joy.
**Carnival judging has a patchy history
**
It has taken decades for carnival judging to become fair and balanced.
In 1974, samba school 'Mocidade' lost the title because one costume judge handed down an inexplicably low score of 4, Fabato says.
In 1986, Brazilian soccer legend Socrátes was selected to judge drums. But he had zero expertise so he rated schools based solely on crowd reaction. Samba schools were furious. One school's president said Socrátes was too drunk to judge and demanded that his scores be annulled.
"He [Socrátes] skipped down the stairs to the parade ground, stripped off his top and started dancing along in a pair of tight white shorts. Officials objected and he was reluctantly coaxed back to the judging station."
In 1988, the count sparked a vicious fight between rival schools and a 16-year-old girl was shot in the stomach, local newspapers reported.
Rio carnival judges are hard to please
Judges must justify any less-than-perfect score with a handwritten explanation. One judge, evaluating costumes last year, docked one-tenth of a point from a school because "a considerable quantity of paraders' hats were slipping or fallen," and she noted another school had promised to deliver "a diversity of green tones," though only lime green prevailed.
A harmony judge noted "occasional loss of internal homogeneity" and that "the neglect or weakening of some voices emptied the song of its sonic mass."
On a scorecard last year, one judge noted how hard it has become to find errors so just one-tenth of a point can clinch a victory. Indeed, this year's runner-up finished one-tenth behind.
Attention to detail is everything
If a gap appears between sections of the parade, the school can lose points. In this year's parade, the lighthouse atop Unidos da Tijuca's float was knocked severely askew, which cost them.
Starting last year, judges' justifications are posted online within 48 hours. And cameras inside judges' booths record what they can see, so schools can review footage and compare to the judges' notes for inconsistencies. If any are found, schools can petition for a judge's removal.
What do carnival revellers make of it all?
In interviews with two dozen paraders on Monday night, about half said they think judges' determinations still reflect some undue influence. But most acknowledged scoring has improved with each passing year.
"They are trying to organise, so the competition happens only on the avenue, but there's a lot still happening behind the scenes. Every samba dancer knows that," Carol Tavares, 40, said on Monday before parading with Unidos da Tijuca. "It's on the path toward changing."
Perlingeiro noted an ineffable quality also factors into the judging.
"The category that doesn't exist, but exists in everyone's mind, is emotion. It happens when you see the crowd cheering, waving. The judge sees that and, in a certain way, is captivated, too," he said. "That has an influence."
Members of rival schools at the Sambadrome clapped appreciatively after Perlingeiro announced the winner. The president of Mangueira, Rio's most popular school and a fan favourite, finished fifth on Wednesday. She said she was happy with the judges' recognition of her school's hard work. Asked if their scores were fair, the president, Guanayra Firmino, demurred.
"With their justifications, I'll do my analysis if it was fair or not. I can't say that yet," said Firmino.