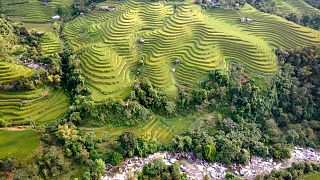 The Banaue Rice Terraces are sometimes called the 'Eighth Wonder of the World'.
Perched 1,500 metres up on the side of the Cordillera mountains in Ifugao, Philippines, the network of fields is as old as some Egyptian pyramids.
But now climate change and the appeal of higher wages in the tourism industry are putting these ancient green steps at risk.
Why are the Banaue Rice Terraces culturally and historically significant?
Just 250 kilometres north of Manila, this network of rice fields is known locally as the "stairs to heaven". The entire valley is covered with green steps, carved into the mountain by hand by the ancestors of the Igorot people at least two millennia ago.
Farmer Julia Amehna has worked in the rice fields, which she inherited from her parents, for the last 50 years.
"This stone wall was built by my ancestors 2,000 years ago. It still stands because it was very well done," she says.
"At the time, they had no machinery, no engineers, it was all done thanks to their ingenuity."
Unlike other rice fields around the world, these terraces are flooded all year round thanks to an irrigation system designed when they were built. The water flows from the forests on top of the mountains and is directed to each step as it passes down to the bottom.
Why are the Banaue Rice Terraces at risk of collapsing?
This exceptional feat of ancient engineering is now at risk of collapsing.
Climate change has seen the region hit by ever more intense and frequent typhoons. The structures that support the rice fields are being eroded by extreme weather.
"Look, these terraces are abandoned because of erosion, and wild weeds and bamboo have grown," says Samsong Chommog, a farmer forced to abandon his destroyed plot.
Repairing the structures is expensive and other jobs pay a lot better. Samsong has now become a tourist guide in the region, an industry where wages are much higher than they are for the farmers of the Banaue terraces.
"Some farmers abandon their land cause they don't have enough money to repair terraces, they prefer being construction workers or tourist guides. Even me, I work as a guide or help other farmers but I must admit I earn better money with tourism," he explains.
Young people too are now turning to tourism instead of working in the fields. Several studies have found that up to a third of Banaue's rice fields are abandoned.
This neglect has raised fears about the survival of the UNESCO World Heritage Site.
Watch the video above to learn more about the Banaue Rice Terraces.