Corruption scandal: Embattled MEP Marc Tarabella asks for the dismissal of the investigating judge
Comments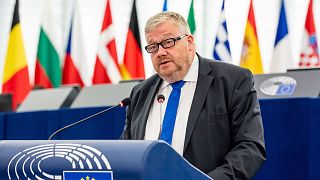 -
Copyright

European Union, 2021.
The lawyer of embattled MEP Marc Tarabella has requested the dismissal of the Belgian judge leading the investigation into the cash-for-favours scheme that allegedly involved cash payments from Qatar and Morocco to influence the European Parliament.
Tarabella, who used to sit with the parliament's socialist group, was detained last week and charged with participation in a criminal organisation, corruption and money laundering. 
His lawyer, Maxim Töller, claims the investigating magistrate, Michel Claise, is biased and has infringed Tarabella's presumption of innocence by assuming the lawmaker shifted his political positions on Qatar after the alleged cash exchanges began to take place inside the hemicycle.
Qatar and Morocco have vigorously denied any wrongdoing.
"The judge (Michel Claise) clearly seems to take for granted the contested facts that are the subject of the investigation he is leading. This is a problem," Tarabella's lawyer, Töller said in a statement seen by Euronews.
"No financial analysis has been carried out by the investigating judge, which is rather troubling."
Tarabella, who until recently was part of the parliament's delegation for relations with the Arab Peninsula, delivered in November a short speech defending Qatar's labour reforms in the context of the controversial FIFA World Cup and blasting the "unilateral negative discourse" against the Gulf country.
The following month, the Belgian lawmaker voted in favour of a visa waiver for Qatari and Kuwaiti citizens, a file that has since then been put on hold.
It later emerged Tarabella had failed to declare a working trip he made to Qatar in 2020.
In his statement, Töller said none of these facts amounted to evidence of corruption and stressed that Tarabella had long supported the work of human rights NGOs.
"In any case, notwithstanding this, the judge cannot, at this stage, harbour and share such prejudice about the applicant's guilt. His role must be to maintain absolute impartiality, holding the scales of justice equally between all parties, with the sole aim of finding the truth," Töller said.
"Obviously, this is no longer the case, there are strong suspicions of bias on the part of the investigating judge, making him unfit to carry out his mission."
The Belgian Federal Prosecutor's Office declined to comment on the accusations made by Töller.
The office said the request will be analysed by a separate judge and could end up in a court of appeal.
Michel Claise will remain as the leading investigator for the time being, a spokesperson told Euronews. His findings will then be handed over to the prosecutor to continue the legal case.
Probe continues to widen
The request for dismissal was filed on Thursday morning ahead of Tarabella's pre-trial hearing, where Töller is set to defend his client's innocence and ask for his release.
Tarabella is the fifth person to be arrested and criminally charged as part of the widening probe, following Greek MEP Eva Kaili, her domestic partner Francesco Giorgi, former MEP Pier Antonio Panzeri and NGO director Niccolò Figà-Talamanca.
Kaili, Giorgi and Panzeri are still in prison, while Figà-Talamanca has been released.
Panzeri has signed a plea deal with Belgian authorities in which he admits his involvement in bribery and commits to sharing "revealing " details on the cash-for-favour scheme.
According to Belgian media, Panzeri has confessed to handing over €120,000 in cash to Tarabella over several instalments in relation to the latter's work on Qatar-related issues – a claim adamantly rejected by Tarabella's lawyer.
Another socialist lawmaker, Andrea Cozzolino, was arrested in Italy last week and is now fighting an extradition order.
The police interventions on Tarabella and Cozzolino were made possible only after MEPs voted earlier this month to lift their parliamentary immunity, which protects them from detention and criminal proceedings.
Eva Kaili's arrest did not require this step because she was reportedly caught in the act, the only instance that triggers the automatic lifting of immunity.