Sir David Attenborough warns of 'collapse of civilisations' at COP24 summit
Comments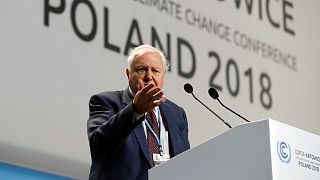 Copyright

REUTERS/Kacper Pempel
Sir David Attenborough delivered a stern speech at the UN's climate change summit in Katowice, Poland, on Monday morning, warning of the impending threats global warming poses to the natural world.
"If we don't take action, the collapse of our civilisations and the extinction of much of the natural world is on the horizon," he said in his address.
He accused older generation of "messing up the planet" and letting down younger generations who are "angry" about the situation.
"I have done my best to speak the truth as I see it, but (young people) ... know that the world is warming, and science is making it perfectly clear, and they know who is responsible - and that's me and my predecessors, and going back even further than that," the 92-year-old told the Thomson Reuters Foundation on the sidelines of the UN climate talks in Poland.
The British naturalist said that even if world leaders had backed the Paris Agreement, damage to coral reefs, glaciers, and forests was still happening.
The talks, which are taking place in Poland's coal-producing region of Silesia, are meant to come up with rules to put the 2015 agreement into practice.
#TakeYourSeat initiative
The natural historian represented the general public at the conference on Monday, just over a week after he launched The People's Seat, a UN initiative to invite ordinary populations to get involved with the climate summit.
In the days leading up to the talks, Attenborough encouraged social media users to share their comments and questions using the hashtag #TakeYourSeat, to give users a platform to have their say alongside world leaders at the COP24.
He then showcased just some of the many submissions during his summit address.
Read more on this subject