COP24: 'We can't afford to fail in Katowice,' says UN's Guterres
Comments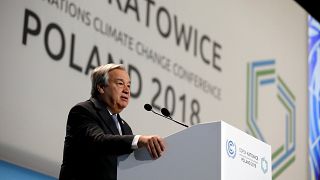 "We can't afford to fail in Katowice."
They were the words of UN Secretary-General António Guterres as he made his opening remarks at the COP24 climate change conference.
Katowice, Poland, is hosting two weeks of talks on how to tackle global warming.
Guterres, speaking at lunchtime on Monday, said the political will to fight climate change had faded since the Paris accord three years ago.
The agreement in December 2015 saw countries agree to step up efforts to fight the problem.
But Guterres said climate change was running away from us.
He claimed temperatures were rising, oceans were warming and glaciers receding faster than expected.
It comes after the International Panel on Climate Change (IPCC) released a damning report earlier this year, which estimates that global greenhouse emissions would need to be curbed by 45% by 2030 in order to stay below a 1.5-degree rise in temperature.
Guterres added, however, there were reasons for optimism.
He said public opinion — and young people in particular — was shifting to call on governments to do more about climate change.
You can watch the full press conference involving Guterres and Poland's president Andrzej Duda in the video player, above.