Climate change helping to sink parts of the Netherlands quicker than expected, say experts
Comments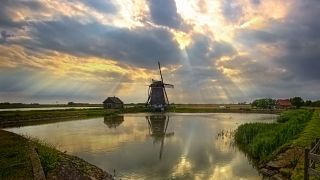 Climate change is playing a major role in the Netherlands sinking more than expected, say researchers.
A team from Delft University of Technology made the conclusion after publishing the first nationwide figures on subsidence.
They used GPS and radar data as well as gravity measurements to produce a special subsidence map.
It shows the western city of Gouda, for instance, is sinking by three millimetres per year, on average.
Ramón Hanssen, a professor of geodesy and earth observation at the university, told Spanish newspaper El Pais: "We have been pumping water for 400 years to cultivate and raise animals on dry land, and the ground has been falling below sea level.
"We already knew this, but with this new map we see clearly that in the west of the country, with clay soils and peat, the latter disappears once exposed due to the periodic suction of water, it oxidises when it comes into contact with the air and contributes to CO2 emissions.
"If the subsidence continues at its current pace, it could mean the end for the typical Dutch landscape of meadows, cows and windmills or cause huge damage to historic city centres."
The university said the recent dry weather was accelerating the subsidence.
"Climate change appears to play a major role in this accelerated subsidence," it said in a press release.
"The relatively warm summers are dehydrating peat soils, speeding up subsidence. This process is irreversible: the peat oxidises, which also means that more CO2 is released into the atmosphere."
The Environmental Assessment Agency estimates the subsidence will cost around €22 billion by 2050.