COP24: Tens of thousands of climate change protesters march in Brussels
Comments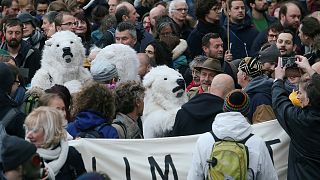 Tens of thousands of climate change protesters marched through Brussels on Sunday as the UN's COP24 conference began in Poland.
The protest's organisers estimated a record breaking 75,000 people took part, making it the biggest climate change march to have taken place in Belgium.
"We demand more ambition from our Belgian decision makers on the European and international level," Climate Coalition Nicolas Van Nuffel said. "But this ambition also needs to be realised at the Belgian level. Since 2012, we have been waiting for a national plan for the climate which implies a strategy, in the short and long term."
Protesters shared videos and photos to social media using the hashtag #ClaimtheClimate, showing scores of people crowding the streets of the Belgian capital.
Belgians also shared photos over overcrowded train platforms as people took public transport to join the demonstration.
The protest coincided with the opening of the UN's COP24 summit in Katowice, Poland, where world leaders gathered to discuss implementation of the Paris Climate Agreement.
According to Reuters, few protests are expected to take place in Katowice itself after Poland placed restrictions earlier this year on "spontaneous assemblies" outside the summit.