Climate change made Europe's heatwave more than twice as likely, scientists find
Comments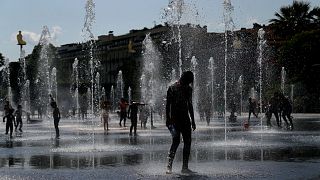 The current heatwave across northern Europe was made more than twice as likely by climate change resulting from human activities, according to a preliminary assessment by leading scientists.
The findings were made by World Weather Attribution (WWA), an international network of researchers, which looked at local weather stations across northern Europe, comparing the current high temperatures to historical data and computer models of a climate unaltered by man-made CO2 emissions.
"We estimate that the probability to have such a heat or higher is generally more than two times higher today than if human activities had not altered the climate," the scientists said of the results.
In total, the group took readings from seven weather stations — two in Finland, and one each in Denmark, Ireland, the Netherlands, Norway and Sweden.
The comparisons showed that the probability of such a heatwave had increased everywhere in the region as a result of climate change, although they noted that in Scandinavia the increase "was not visible in observations until now due to the very variable summer weather."
WWA also warned that with global mean temperatures increasing, heatwaves in Europe will become "even less exceptional".
The findings come as countries across Europe continue to struggle with soaring temperatures, with everything from transport to food supply affected, while several areas have been placed under weather alerts because of the extreme heat.