Channel Tunnel rail link sees long delays due to 'extreme heat'
Comments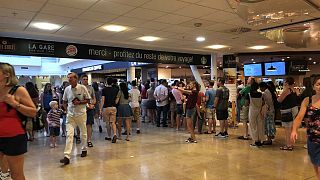 Copyright

FIONA DITE/via REUTERS
The Channel Tunnel rail link has become the latest victim of Europe's heatwave, warning passengers to expect delays due to "extreme heat".
Eurotunnel, which operates a drive-on train service for cars and trucks going through the Channel tunnel, said on Twitter that the high temperatures were affecting the air conditioning system in carriages, leading to delays.
As a result, people have been left queuing for several hours in the unbearable heat. The company recommended that people bring water for the wait.
On Friday, there was a 30-minute delay pre-checking at the Folkestone terminal in Kent, followed by a two-hour wait on site.
The Channel Tunnel is 50 kilometres long and runs between Kent in southeast England and northern France. It opened in 1994 and is the longest undersea link.
Frustrated travellers have taken to social media to vent their anger at the long waiting times in the heat.
On Thursday, there were reported delays of at least five hours also caused by a problem with the air conditioning in the trains.
This Twitter user posted a picture of people cooling down with water hoses while they waited.
The company decided to cancel ticket sales for Friday and advise customers to cancel their travel plans if they could.
Euronews has reached out to Eurotunnel for comment.