These pictures put northern Europe's heatwave in perspective
Comments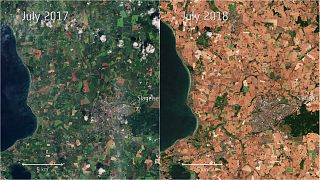 Newly-released images from space have highlighted the effects of this month's heatwave on parts of northern Europe.
Pictures released by the European Space Agency show how the higher-than-normal temperatures have left the earth brown.
They were taken from from a satellite funded by Copernicus, the EU's earth observation programme.
One reveals how fields in Denmark have gone from a lush green this time last year to brown this month.
Another shows how vegetation in northern Germany, Denmark and Sweden has turned brown in just the last month.
It comes as Sweden battles an outbreak of wildfires amid the country's driest weather in the May to mid-July period since records began.
Denmark has also been hit by a heatwave.
The Danish Meteorological Institute says if trends continue into August this year, 2018 could be the country's driest summer.
Drag the slider across the images to see how hot weather has affected Denmark over the last year (top) and northern Europe (bottom) since late June.
Slagelse, Denmark
Northern Germany, Denmark and Sweden