Florida: At least 17 dead in high school attack
Comments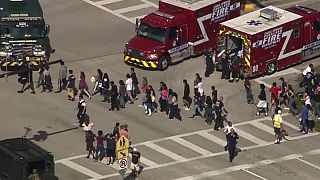 -
At least 17 people have been killed in a high school shooting in Florida.
A gunman, armed with an assault rifle and smoke grenades began the shooting spree outside Marjory Stoneman Douglas High School in Parkland before opening fire inside.
Said to have been wearing a gas mask, the shooter set off a fire alarm in a bid to draw students from their classes.
The suspect has been named as 19-year-old Nikolaus Cruz, who was arrested an hour after the rampage took place.
"He is in custody. We've already began to begin to dissect his websites and the things that social media that he was on, and some of the things that come to mind are very, very disturbing," Broward County Sheriff Scott Israel announced.
"He was a former student of Douglas High School. He got expelled for disciplinary reasons, I don't know the specifics. "
A teacher at the school said staff had undergone training for such a situation six weeks ago.
It's the sixth deadly school shooting in the US this year and one of the worst since 20 children were killed in Connecticut in 2012.