Florida school shooting — what we know
Comments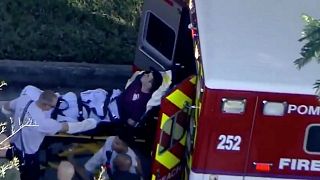 A gunman, 19, opened fire at a Florida high school with an assault rifle, killing 17 people and wounding more than a dozen others, authorities said.
It happened at Marjory Stoneman Douglas High School in Parkland, a community situated 72 kilometres north of Miami.
It's unclear at this stage how many of those killed were children; five of the injured were in a critical condition.
Twelve people were killed inside the school, two others just outside, one more on the street and two other victims died later at hospital, said Broward County Sheriff Scott Israel.
The gunman set off the school's fire alarm at the start of the attack, prompting staff and pupils to pour into the corridors, according to two US senators, who had been briefed by law enforcement officials.
The attacker — who had been expelled from the school for disciplinary reasons — wore a gas mask as he entered the school carrying a rifle, ammunition cartridges and smoke grenades, added the senators.
One teacher told WSVN said she hid in a closet for 40 minutes with around 19 students. CBS News aired footage purporting to be of the shooting, which showed pupils huddled or lying on the floor surrounded by mostly empty desks. A rapid series of loud gunshots are heard amid hysterical screaming and someone yelling: "Oh my God."
The gunman was later arrested outside. Law enforcement officials said he had tried to blend in with pupils filing out of the school. He was armed with an AR-15-style rifle and had multiple magazines of ammunition.
The suspect was later identified by police as Nikolas Cruz, described by his peers as an "outcast" that was "crazy about guns".
It was the 18th shooting in a US school so far this year, according to gun control group Everytown for Gun Safety. The tally includes suicides and non-injury incidents.
The carnage was the second-greatest loss of life from a shooting at a US public school, after the 2012 massacre of 26 people at Sandy Hook Elementary in Newtown, Connecticut.
Social media reaction