Florida: 'Boom, boom, boom, boom. I heard gunshots. I thought it was firecrackers'
Comments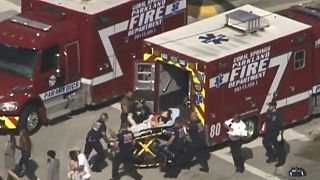 -
"We went outside. Boom, boom, boom, boom. I heard gunshots. I thought it was firecrackers. But after I heard the last shot I was like oh, no, I'm out," said Manuel Barraza, student.
Within hours of the gun attack relived students who had been evacuated from the school began to tell of their ordeal.
"I was in a classroom and all I heard was the gunshots. And then when we went outside and the police cleared us for us to go outside, I see dead bodies on the floor."
Some told of their relief at being able to contact their families, but others were still trying to make sense of what they had witnessed.
"I heard those shots I just ran and I was off the property in a matter of two minutes," said Meghan Hall, a high school junior.
"All the kids came inside the rooms and everything there were teachers pulling us in and telling us to get in the rooms and be quiet," Jeremiah Baez, student, told reporters.
Later on students were reunited with their families at a nearby hotel.
"It's just a joy and a relief. I just hope all the other kids are okay," said mother Norreece Perogles.
Daniel Huerfano, student, expressed his disbelief:
"You feel like it's a normal day at school, like, you don't expect this. And like, someone could like, come in, bring a gun and shoot up the school. Until you realise it, you just like, you start texting your family, like 'I love you' because you never know if you could get shot or killed right then and there."