23 killed in Syrian regime airstrikes as peace talks face uncertainty
Comments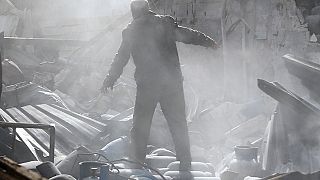 At least 23 people have been killed by airstrikes in Eastern Ghouta as Syrian government forces intensify their efforts to retake the rebel stronghold.
Ghouta has been under siege since 2012 and the area is gripped by a humanitarian crisis. The UN says residents are so short of food they are forced to eat trash and children eat only on alternate days.
The area is part of a so-called de-escalation zone where Russia has brokered deals to ease fighting between rebels and regime forces.
Meanwhile UN-backed peace talks scheduled to continue in Geneva face uncertainty.
United Nations mediator Staffan de Mistura said that the Syrian government has still not yet confirmed that it would attend an eighth round of peace talks scheduled, but "indicated that we would be hearing from them soon."
"Last night we received a message that the government would not travel to Geneva today . Naturally we hope, and indeed expect, the government will be on its way shortly," de Mistura told the U.N. Security Council on Monday (November 27).
Opposition delegates are pushing for the removal of Syrian President Bashar al-Assad and have called on Russia to pressure him into negotiations on a political transition followed by a new constitution and free elections. The proposal is in line with a U.N. roadmap to end the six-year war.