Moscow monument honours Mikhail Kalashnikov
Comments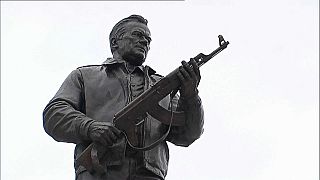 A monument has been unveiled in Moscow to honour Mikhail Kalashnikov, the man behind the AK-47.
The controversial statue, which cost around half a million euros, depicts the one time tank commander clutching his eponymous creation.
Kalashnikov died in 2013 at the age of 94. He repeatedly said that pride in his gun was mixed with the pain of seeing it used by criminals and child soldiers.
The most lethal automatic weapon ever, more than 70 million were made. Every fifth firearm in the world is a Kalashnikov.