Kalashnikov unveils new rifle fit for NATO rounds
Comments
By Naira Davlashyan & Alice Tidey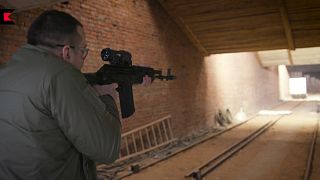 Copyright

Kalashnikov Media
The famed Russian weapons manufacturer Kalashnikov has unveiled a prototype for a new assault rifle with bullets favoured by NATO troops.
The new AK-308 rifle was made using components of two other models: the AK-103 — chambered for the 7.62x51mm round, which are the dimensions used by NATO — and the AK-12 gun, Russian news agency Tass reported.
Weighing in at 4.3 kg, when the AK-308's 20-round magazine is empty, it measures 880-940mm, uses a diopter and folding sights. A bayonet can also be mounted.
It was unveiled by the gunmaker — known around the world for its AK-47 model — at the Army-2018 international military and technical forum held in Moscow on August 21-26.
Euronews has reached out to Kalashnikov for comment.