German election: what's at stake (Full debate)
Comments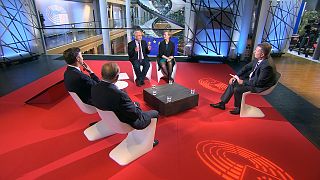 Germany's election on September 24 is not just about who will become chancellor – it will influence the future design of the European Union.
German voters will have to decide whether Angela Merkel or her main challenger, Martin Schulz, will lead the EU's most populous country on decisions ranging from euro zone reform to defense cooperation and migration.
While Chancellor Merkel's conservative bloc remains comfortably ahead in the polls ahead of Social Democrat Schulz, many voters are still undecided.
Euronews' Stefan Grobe brought together leading MEPs at the European Parliament in Strasbourg to discuss the issues at stake. On the panel were: Greek European Parliament vice-president Dimitrios Papadimoulis, representing the European United Left-Nordic Green Left; Marietje Schaake from the Netherlands, representing the Alliance of Liberals and Democrats for Europe, and two German MEPs, Christian Democrat David McAllister and Social Democrat Udo Bullmann.