Doctors describe battle to save nursing home victims trapped by Irma
Comments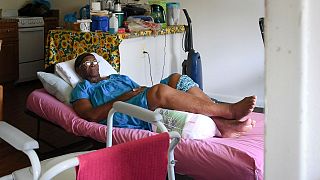 Hurricane Irma has claimed at least 77 lives, nearly half of them in the United States. They include at least eight people at a Florida nursing home in the city of Hollywood. Investigators believe the deaths were heat-related after the facility lost power and its air conditioning due to the storm.
"The scene was chaotic when I arrived," Dr Randy Katz, Medical Director of Emergency Services at the nearby Memorial Regional Hospital, told reporters. "We had 115 – at least 115 patients that we were trying to evacuate and bring them to safety. The fact that it's down the street, you know, we don't have control over what goes on in that facility, but when we were called to help, you know, we mobilized at least 50 to 100 of our employees that left the hospital, ran down the street, and pulled all of these patients out of the facility and made sure that they got to a safe place."
It was reported that three people were found dead at the nursing home and the other five died in hospital. The centre was sealed off on Wednesday and a police spokesman confirmed that a criminal investigation was underway.
"For some, it's the first aid they've seen since Hurricane Irma struck four days ago," BojorquezCBS</a> reporting from Key West. <a href="https://t.co/qQRjiME1Nu">pic.twitter.com/qQRjiME1Nu</a></p>— CBS News (CBSNews) September 13, 2017