Florida recovers after Hurricane Irma devastation
Comments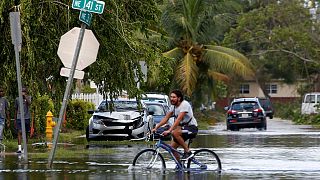 The general verdict in Florida is that it could have been worse, but it was bad enough. The Florida Keys – the chain of islands south of the mainland, suffered some of the worst damage. On one trailer park in Key Largo every home has been flooded and boats have been left stranded on streets. Irma has now been downgraded to a tropical storm, but it's left a trail of destruction and danger in its wake, prompting Florida Governor Rick Scott to issue this warning:
"It's very important that you check with local officials before you return home, to make you can safely do so. Don't think just because this thing has passed you can run home. We've got downed power lines across the state, we've got roads that are impassable across the state; we've got debris across the state."
We'll get through this together. pic.twitter.com/tPamQ8S1Mw

— Rick Scott (@FLGovScott) September 11, 2017
The Keys are cut off from the mainland, as the 42 bridges that link them are being assessed for damage. Reports say that 10,000 people decided to ride out the storm.
Took this at Galleon marina in Key West just before noon Sunday as Hurricane Irma still belted us with wind and rain #mhpic.twitter.com/b37qI6PNc9

— David Ovalle (@DavidOvalle305) September 11, 2017
Many houses in mainland Florida, including much of Miami, escaped relatively unscathed, but over six million homes – that's two thirds of the state – are without electricity. It was the less sturdy houses that suffered the most damage. One a trailer park in Miami mobile homes were ripped apart and the damage will take months to repair.
Local media are linking four deaths to the storm.
President Donald Trump has released emergency federal aid for Florida. He described the hurricane as a "big monster".