Russian war vessels launch missiles at ISIL targets in Palmyra
Comments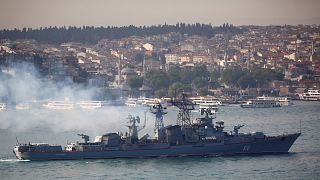 Russia has fired four cruise missiles against targets from the self-proclaimed Islamic State in Syria, according to Russian state news agencies quoting the Defence Ministry in Moscow.
The reports say they were launched from a warship and a submarine in the Mediterranean – aimed at targets near the ancient city of Palmyra. The ministry claims that they struck heavy equipment and killed fighters that ISIL had transferred from its stronghold of Raqqa.
The Russian government warned the United States, Turkey and Israel in advance of the move, the ministry was cited as saying.