Campaigning hots up in countdown to Dutch election
Comments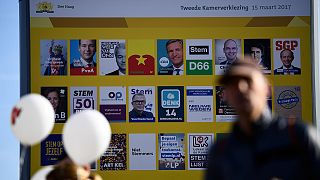 Campaigning has reached fever pitch in the Netherlands ahead of Wednesday's election, with the far-right poised to make huge gains.
Geert Wilders and his Freedom Party (PVV) are being tipped to come in second with 22 seats with his anti- immigration and anti-EU manifesto.
For Prime Minister Mark Rutte's Liberals the stakes are high. He is bidding for a third term but his campaign has been deflected by the row with Turkey. He may be returned as leader of the largest party but pundits predict a deep cut in the number of seats. Down from 40 in the 150-seat chamber to a mere 24.
Did Erdogan just boost anti-immigrant, anti-Islam politician geertwilderspvv</a>, 4 days before the Dutch election? <a href="https://t.co/MsFtYq7X13">https://t.co/MsFtYq7X13</a></p>&mdash; Haaretz.com (haaretzcom) March 12, 2017
With the spoils expected to be spread about, smaller parties such as the progressive D66 led by Alexander Pechthold think they are in with a possible coalition opportunity.
Many have vowed not to work with Wilders, and these elections have also seen the remarkable rise of the left-wing ecologists GroenLinks and their charismatic young leader Jesse Klaver.
With a total of 28 parties chasing some 12.9 million eligible voters, the results are likely to be fragmented and negotiations to form the next coalition government could take months.
Netherlands: Strongest party in 2012 and now on sub-national level (colours changed!). #DutchElection#TK17#TK2017#Netherlandspic.twitter.com/W73FW1cLV0

— Europe Elects (@EuropeElects) March 12, 2017