He wants to halt Muslim immigration, close all mosques and ban a Koran that he compares to Adolf Hitler's Mein Kampf.
He wants to halt Muslim immigration, close all mosques and ban a Koran that he compares to Adolf Hitler's Mein Kampf.
Geert Wilders' policies may seem extreme, but they are, arguably, hitting home in The Netherlands ahead of parliamentary elections set for Wednesday, March 15.
The 53-year-old's Party for Freedom (PVV) movement has been jostling for top-spot in opinion polls, despite his conviction in December of inciting discrimination against Dutch Moroccans.
Here we explain how the Dutch election will work and look at Wilders' impact and his chances of getting into power.
Why is this election important?
The prospect of far-right firebrand Wilders coming first in the Dutch election could cause further unease over the border in Brussels, already fighting to contain the fallout from the biggest shock to the European project, Brexit.
Wilders triumphing would continue the trend, after Brexit and Trump, of so-called anti-establishment forces rocking the boat and hand a major boost to far-right parties vying to cause similar upsets in France and Germany later this year.
Who are the main runners and riders?
One of the firmest facts about Dutch politics is the extent to which it's fragmented. Its proportional representation system, see below, tends to help smaller, fringe parties.
The current coalition government consists of the centre-right People's Party for Freedom and Democracy (VVD) and the centre-left Labour Party (PvdA).
Wilders' anti-Islam and anti-EU Party, PVV, who had been leading the polls, slipped to second in the rankings on March 1, two weeks ahead of the vote.
There is also the Christian Democrats (CDA), struggling in recent years compared to past performance; the pro-European D66, comparable to the UK's Liberal Democrats; the environmentalists GroenLinks (GL); and the Socialist Party (SP).
On the fringes are parties such as Denk, who campaign for migrants and their descendants and 50Plus, a party representing older people.
How does the Dutch election system work?
It is based on proportional representation. So a party that gets 9 percent of the national vote, gets 9 percent of seats in the Dutch parliament, Tweede Kamer. There are no electoral districts, the Dutch vote in a single, nationwide constituency.
The Dutch parliament has 150 seats, so 76 are needed for a majority and hence a viable coalition to run the government.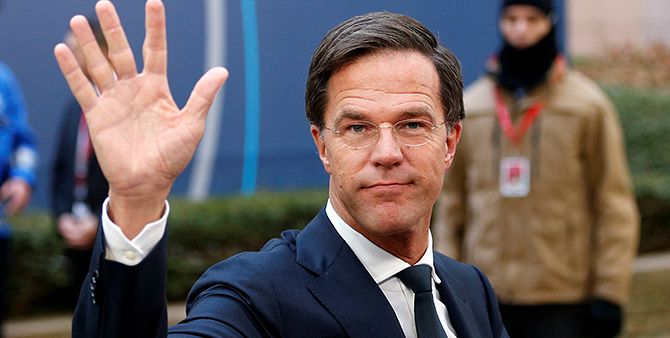 Could Wilders really be the Netherlands' next prime minister?
Many experts [here, here and here] even while acknowledging the shocks of Brexit and Trump, think not. The very system that allows parties like Wilders' to have a voice also provides a mechanism against parliament being dominated by one party.
"I think the headline reporting that suggests Wilders is about to takeover The Netherlands is misleading, that is definitely not the case," Gijs De Vries, a former Dutch politician, now working at the London School of Economics' European Institute. "Numerically at least, as much as we can trust the polls, he's not getting above 20 percent of the vote.
"Secondly he will have great difficulty joining a government coalition. The other parties have so far claimed they would not wish to join in a coalition that included Mr Wilders."
Prime minister Mark Rutte, leader of the governing VDD party, says he cannot imagine his movement joining forces with Wilders in a coalition.
But, adds De Vries, Rutte has changed his mind on some key issues before, for example sending EU aid to Greece and respecting the outcome of the EU-Ukraine referendum.
"Wilders is very unlikely to be in government, unless everyone else flat-lines in voting," Euroscepticism specialist Simon Usherwood, from the University of Surrey, told Euronews. "There's a strong sense of wanting to exclude him [Wilders], even if that means a big coalition and other compromises on policy. It also suits Wilders more to be on the outside, criticising."
How is Wilders influencing the campaign?
"Wilders' discourse is increasingly being copied and rehashed by his competitors," De Vries told Euronews. "Mr Rutte [current PM] wrote an open letter in a major Dutch newspaper, which, between the lines said 'if foreigners don't behave the way, we, the original Dutch want, they had better pack their bags'.
"The Christian Democrats leader, not to be outdone, has just said he would be happy to tear up the [EU's} treaty with Ukraine [which the Dutch rejected in a referendum], pandering to the anti-EU sentiment in part of the population.
"Wilders' competitors compete with him by embracing some of his ideas without the extremism Wilders purports."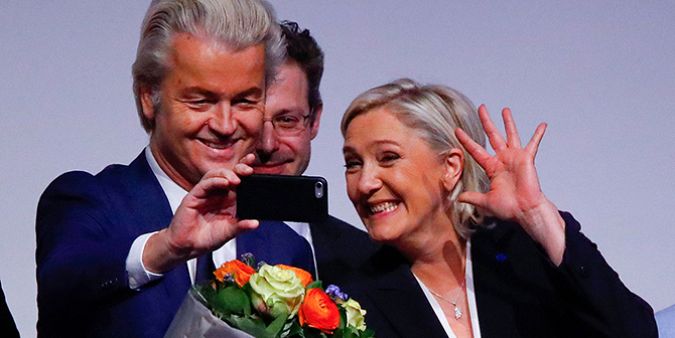 What role is the issue of Muslims and immigration playing?
The debate around the role of Islam in Dutch society was electrified by two murders earlier this century, said De Vries
Outspoken film-maker Theo van Gogh, who produced a film criticising Islam, was killed by a militant Islamist in 2004. That followed the murder of anti-immigrant populist Pim Fortuyn in May 2002 by an animal rights activist.
"At local level most people get along with their neighbours," said De Vries. "Muslims, Christians, non-believers or Buddhists.
"But I think there are many genuine concerns from people who feel their neighbourhoods are no longer the environment they knew when they grew up as children.
"That is a feeling many people have and it's genuine and it should be taken very seriously. At the same time it's also clear you have a number of politicians who actively fan the flames of xenophobia. And it's obvious Mr Wilders is one of them. If you go into the elections saying you will close all Islamic schools, even though you want Christians to be free to form their schools, you are clearly trying to exploit a divide. He's got support but many people find he's going much too far."
Dutch Muslims make up around 5 percent of the country's population. More than one-in-three respondents from The Netherlands said they had an unfavourable view of Muslims in a Pew Research Survey.
Regarding the EU's refugee influx, The Netherlands received around 33,000 asylum requests in the year to September 2016, according to Eurostat.
What are the other issues on voters' minds?
The economy is an issue, even though some of the country's indicators are positive. Unemployment, for instance, was 5.4 percent in December 2016. But, said De Vries, there are concerns, particularly among young people, that a lot of employment is insecure because of temporary positions and zero-hour contracts.
Health is also important for voters, he added, even though The Netherlands topping the Euro Health Consumer Index.
De Vries said the concern that people have is that they have to pay more to access the healthcare system and that is the classic ideological debate between the left, who want to increase investment, and right who says it's becoming too costly.