Ground staff strike grounds nearly all Berlin airport flights
Comments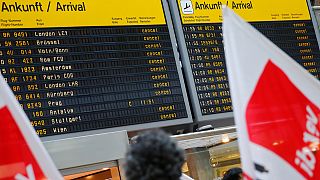 Thousands of air passengers were stranded on Friday as hundreds of flights were cancelled at Berlin's two airports due to a strike by ground staff.
The one-day stoppage comes as the world's biggest tourism trade fair, the ITB, has been gearing up for its busiest period.
The ground staff want a 10 percent pay rise, to 12 euros per hour. Five rounds of talks have failed, as EU rules bringing more competition have squeezed wages.
"Passenger numbers are rising, every year. Again and again. We read that. And we see it as well. The working conditions get worse and worse. But wages are not only static, they're actually declining. We've had to concede a lot over the years, and now the ratio is no longer acceptable. I think our performance here needs to be properly paid," said Marcel Hoffman of the trade union Verdi.
Last year the Tegel and Schoenefeld airports in Berlin saw a rise in passenger numbers of over 10 percent.
Berlin Airport, which operates them, said almost all flights from the German capital had been grounded on Friday.
Several major airlines have been affected. Air Berlin said it had cancelled over 200 flights, with only long-haul routes and flights to and from Dusseldorf still operating. It offered passengers vouchers for train tickets to their German destinations or flights from Hanover.
Irish budget carrier Ryanair cancelled 77 flights to or from Berlin and said was offering customers a full refund, or free transfers.
Lufthansa said it had had to cancel 68 flights between Berlin, Frankfurt and Munich. Some 10,000 passengers affected could rebook or cancel for free.
"It is bad but bearable. It is ok, here at the airport. The people are very nice, they want to help," said Paulus Sakalas, a passenger from Lithuania.
"We can understand that they go on strike. But for us as tourists it is pretty unpleasant," added another passenger, Simone Krapf.
The strike was due to last until the early hours of Saturday morning.
The union has already held warning strikes and is negotiating for ground staff at several other German airports – at Frankfurt, Cologne, Dusseldorf, Leipzig, Dresden and Stuttgart.
This week has been Europe's worst this year for travel disruption, with separate strikes in France and Finland. Italian employees are set to walk out on March 20.