North Korea-Malaysia: political 'hostage-holding'
Comments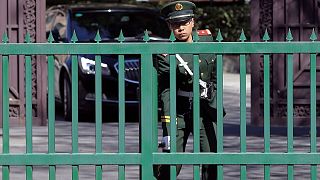 The fallout between Pyongyang and Kuala Lumpur over the murder of Kim Jong-nam has stepped up a gear with each country banning the other's citizens from leaving.
Holding our citizens hostage, is in total disregard of all international law.

Prime Minister of Malaysia
North Korea's foreign ministry was the first to issue a ban. It says the temporary block on Malaysians leaving the Democratic People's Republic of Korea (DPRK) is to ensure the safety of its own diplomats and citizens in Malaysia.
"All Malaysian citizens in the DPRK will be temporarily prohibited from leaving the country until the incident that happened in Malaysia is properly solved," the state-run KCNA news agency reported, quoting the foreign ministry.
"In this period the diplomats and citizens of Malaysia may work and live normally under the same conditions and circumstances as before."
According to a Malaysian foreign ministry official, there are currently 11 of its citizens in the DPRK: three embassy staff; six family members; and two others.
'Hostage-holding'
Kuala Lumpur branded the ban 'hostage-holding' and responded by barring all North Koreans from leaving the country.
"This abhorrent act, effectively holding our citizens hostage, is in total disregard of all international law and diplomatic norms," Malaysian Prime Minister Najib Razak said in a statement.
He went on to summon an emergency meeting of the National Security Council.
North Korean embassy under surveillance
As part of the investigation into Kim's death, police in the Malaysian capital have blocked off the North Korean embassy.
They believe up to three male suspects are hiding there, including a senior North Korean diplomat and a state airline employee.
"So we have served the notice under Section 111 to the embassy and we will wait, we will wait and if it takes five years we will wait outside, definitely somebody will come out," police inspector, Khalid Abu Bakar, told the press.
Police later removed the tape and car blocking the embassy driveway in a sign of easing tensions.
Breakdown in ties
The killing of the North Korean leader's estranged half brother has outraged Malaysia and seen diplomatic ties disintegrate.
#NEWSGRAPHIC Timeline of the diplomatic row between Malaysia and North Korea since the assassination of Kim Jong-Nam @AFPpic.twitter.com/024j1elOaE

— John Saeki (@JohnSaeki) March 7, 2017
Prior to Kim's death, Malaysia was one of North Korea's few allies outside China.
Two women from Indonesia and Vietnam have been charged and eight North Koreans are wanted in connection with Kim's death.
The assassins used VX nerve agent to kill Kim at Kuala Lumpur International Airport. The chemical is so toxic it is on the UN list of weapons of mass destruction.