Mexican drug kingpin 'El Chapo' pleads not guilty in US court
Comments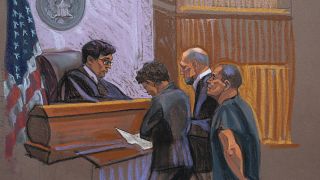 After his surprise extradition from Mexico, drug kingpin Joaquin 'El Chapo' Guzman appeared in a US court and pleaded not guilty to charges he ran a multibillion dollar drug empire.
His handover to the American authorities came in the last hours of Barack Obama's presidency.
"As part of the extradition process we had to assure the Mexican government that the death penalty would not be sought in this matter. So he is, as it stands if he's convicted of the CCE, he's facing a mandatory life sentence. And for all of the narcotics-related, narcotics trafficking sentences, he is also facing a maximum sentence of life," explained US Attorney for the Eastern District of New York, Robert Capers.
Head of the Sinaloa cartel, Guzman oversaw one of the world's largest drug smuggling operations, playing a key role in Mexico's decade long drug war in which led to the deaths of some 10,000 people.