Stockpile food and water in case of attack, Germans set to be told
Comments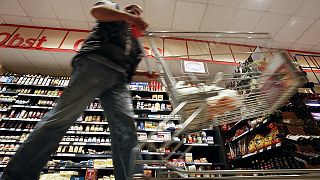 It is a measure that has not been seen since the end of the Cold War. People in Germany are set to be told to stockpile food and water, in case there is an attack or catastrophe in the country.
The interior ministry has not commented on the plans – which were revealed by the Frankfurter Allgemeine Sonntagszeitung newspaper – but says a civil defence strategy is due to be discussed on Wednesday.
The article quoted the government document as saying that everyone will need a 10-day supply of food and five-days worth of water.
Germany's currently on hight alert after two Islamist attacks and a shooting rampage.
The newspaper said a parliamentary committee had originally commissioned the civil defence strategy in 2012.
Social media response
The proposed precautions have got a comical response on social media – with some likening the stockpiling of supplies to that of hamsters filling their cheeks.
Hamster würden Möhren kaufen #Hamsterkäufepic.twitter.com/2ovgoJNjqo

— (((Krawalla!!!))) (@TantePolly) 21 August 2016
Ich hab grad noch einen bekommen. War der Letzte. Verkäufer meinte, der wächst noch #Hamsterkaeufepic.twitter.com/fgXkaBGeXC

— Sister B. (DubeAteo) 21 August 2016