Turkey coup: around 200 dead and nearly 3000 arrested
Comments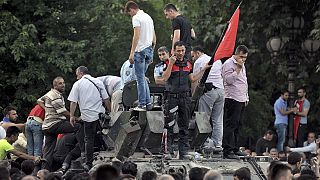 Hundreds of people are now thought to have been killed, many of them civilians, and over one thousand wounded following an attempted military coup in Turkey.
Nearly 3000 military personnel have also been detained, the country's Prime Minister has confirmed.
Live TV images showed dozens of rebel soldiers abandoning their tanks on Istanbul's Bosporus bridge early Saturday morning, as the country's president Recep Tayyip Erdogan insisted the take over had failed. He has now flown to Istanbul.
Erdogan had earlier urged supporters to take to the streets to oppose the plotters via his smart phone during an interview with a Turkish broadcaster.
29 colonels and five generals have reportedly been removed from their posts, while the head of Turkey's armed forces, General Hulusi Akar, who was apparently taken hostage during the attempted coup, has been freed.
The Turkish government has indirectly blamed exiled Islamic cleric Fethullah Gulen of being behind the coup, something he has denied.
In the capital Ankara, officials say multiple attacks on the Turkish parliament and presidential place have largely stopped though fighting in the city continues for a key military installation.